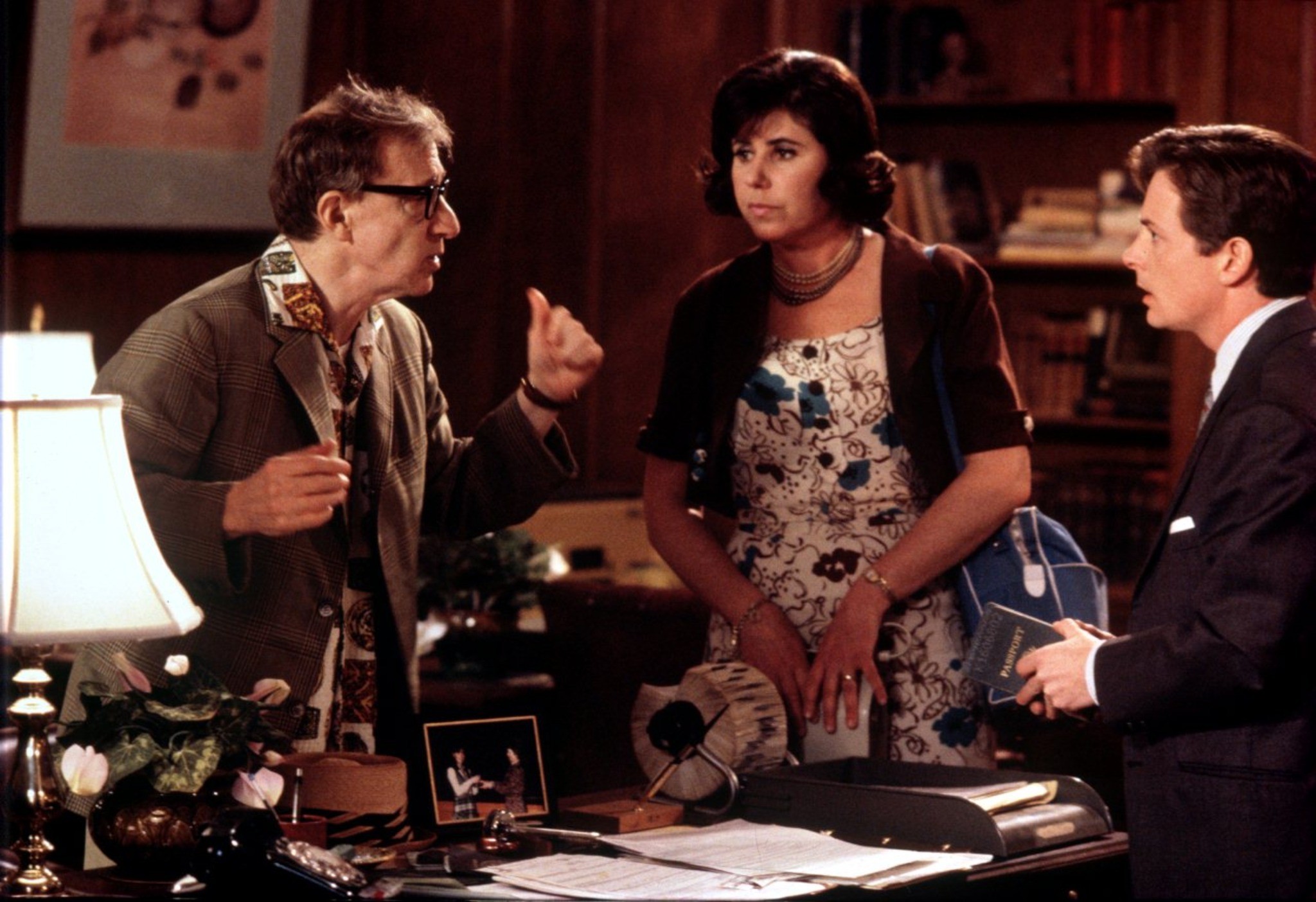 The 24th film written and directed by Woody Allen
Don't Drink The Water is sometimes left off some lists of Woody Allen films because of one reason – it was made for TV. And in many ways it looks like it, with a clearly reduced budget. It's also not a new script – it's a Woody Allen play from 1966 newly adapted for the (small) screen. It's fun, but one Allen's much lesser works, but should be counted amongst his cannon of films regardless.
Woody Allen stars as Walter Hollander, head father of a small family that also includes his wide Marion (Julie Kavner) and daughter Susan (Mayim Bialik). The family, through misunderstanding, find themselves hiding out in the American embassy of a fictional iron curtain country. There's upheaval there too, as Axel McGee (Michael J Fox), the incompetent son of the current diplomat, has been put in charge for the first time.
Conception
Woody Allen was a funny man yet to find his form in the early 60s. He wrote for other comedians, and had taken to standup himself. Having studied film and been a film fan his entire life, cinema was still the ambition.
The advice from his managers was to pursue his talent for comedy, and use that to leverage into the world of film. The plan would eventually pan out, but Allen wanted to write more that just sketches. Ambition led to Don't Drink The Water, his first play. Allen wrote the film when in London, waiting to act in the troubled production of Casino Royale (1967).
Allen's name was enough for him to get a play produced on Broadway. Although he had little creative control, and the production was directed by Stanley Prager, the eventual play was billed as Allen's vision.
Allen claims to have never truly taken to political comedy. Perhaps he just came to fame in political times - and targets like the Iron Curtain were easy for comedy.
Allen wrote partly about what he knew. The Hollander family - every day schmucks from New Jersey, may seem like cartoon caricatures, but are drawn with detailed accuracy and wit. There are thematic elements that Allen would reuse - from the use of magic, making fun of God, and a gloriously chaotic third act.
The play was a success, and ran for almost 600 performances. Of course, the film rights were snapped up, but again Allen found himself without any power. In 1969, a film version was released starring Jackie Gleason and directed by Howard Morris. Allen's editor in the 70s, Ralph Rosenblum, also worked on that version. Allen hated it. He says[2]:
"The movie was ghastly. As bad as anything ever committed to celluloid."
Allen made little effort to update the play or its references from the 60s. And even then, it's a cartoonish take on politics. But it is an era that Allen spent much of his early career making fun of - and a lot of the jokes here could be taken from Bananas (1971).
Production
Production began 4th April 1994, and ran until 25th April 1994.
In keeping with the enclosed setting of a play, all of this film was shot in New York. The setting of this fictional is never explained, but for establishing shots, Allen used Prague. There is also an establishing shot of Washington. Both shots are stock footage.
Allen managed to retain much of the crew he works with in films. Carlo DiPalma returns as cinematographer. Juliet Taylor remains in casting. Santo Loquasto handled production design. Allen also retained his regular title card look and feel.
What is different for TV was the aspect ratio - broadcasting at 4:3, a far cry from the widescreen of some of Allen's most beautiful work. Allen also made no concession to commercial placement on a TV network. Apparently the ad breaks came suddenly and with little sense in the original broadcast.
Some of Allen's longest scenes are in this film. Many go well over the 2 minute mark, with one passing 5 minutes.
Perhaps one of the reasons Allen waited so long, or felt that now was the right time to make his own version, was that he was of the right age to play Walter. It's worth noting that traditionally, Walter is a large bumbling man, as played by Lou Jacobi on stage or Jackie Gleason in the 1969 film.
For music, Allen abandoned his usual American Jazz. He opted instead for a couple of recurring pieces, Romanian dances that recur many times in the film. He would use one piece, Sabre Dance, again in Scoop (2006).
The film originally ran short, which necessitated the short pseudo-documentary introduction.
We don't know the location for this film, which is mostly the one set. It is definitely New York, and Michael J Fox said it was across the road from his home, in the Upper East Side.
Release date
18th December 1994 (ABC TV)
Studio
Sweetland Films
Duration: 92m
US Rating: PG
Rotten Tomatoes 44%
IMDB: 6.3
Rateyourmusic: 2.74
Screenshots
Cast
Woody Allen stars as Walter Hollander.
Mayim Bialik stars as Susan Hollander. At the time, Bialik was starring in the sitcom Blossom. She also appeared in films like Beaches (1988) and would go on to star in The Big Bang Theory. In her dressing room for that latter show, Bialik keeps a photo of herself on the set of this film. Says Bialik[1]:
"He's one of my favorite people, though—at the time, I was over the moon. I don't think I could speak straight when I went in to meet him, it was such a tremendous thrill. I'm really not a very good improv actress at all, and so he would write me improv lines, because I couldn't put two words together. I'm good with a script. But I guess he liked me enough to cast me, and it was just incredible."
Dom DeLuise plays Father Drobney. He was an unstoppable comic force through the 70s and 80s, appearing in many films by Mel Brooks, from Blazing Saddles (1974) to Robin Hood: Men In Tights (1993), and the Cannonball Run series. Says Allen[2]:
"He was so funny that I used to have trouble doing scenes because I would be laughing at him in the scene. He made me laugh so much that sometimes I couldn't keep a straight face."
Michael J Fox plays Axel Magee. He was one of the biggest stars of the 80s and 90s with his role in Family Ties and the Back To the Future films, and much more. Fox had been diagnosed with Parkinson's disease, and had decided to take a break. He jokingly told his agents that he would only really be interested with Woody Allen. His agents heard about this film and secured the role. Says Allen[2]:
"Michael J Fox was wonderful."
Edward Herrmann stars as John Kilroy. Herrmann had appeared in The Purple Rose Of Cairo (1985), and in that time had starred in films such as The Lost Boys (1987) and Annie (1982). He would go on to have a memorable role in The Gilmore Girls.
Julie Kavner stars as Marion Hollander. At this point, Kavner was already a sudden global superstar thanks to her role in The Simpsons. She had worked with Allen previously, last being seen in Oedipus Wrecks (1989), and before that Radio Days (1986). She would return for Deconstructing Harry (1997). Says Allen[2]:
"She never disappoints. She's always worried, self-effacing worried about how she's going to be—and she's always sensational."
Don't Drink The Water
is featured in our book
The Woody Allen Watcher's Guide
Book 2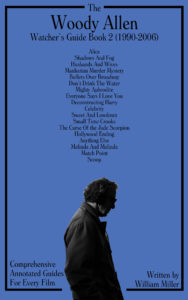 Crew
Carlo Di Palma returns as cinematographer. This was his 9th film with Allen, and would return for Mighty Aphrodite (1995).
Santo Loquasto returns as production designer. This is the 13th time he's worked with Allen.
Suzy Benzinger comes on board as costume designer. This is her first time working with Allen, and would work on many more Allen films over the next couple of decades. She would work with Allen next on Deconstructing Harry (1997).
Susan E Morse returns as editor. This is her 17th film with Allen as lead editor.
Juliet Taylor is casting. This is her 18th film with Woody Allen.
Charles H Joffe and Jack Rollins, Woody Allen's managers, return as executive producers. Sweetland Films execs Jean Doumanian, J.E. Beaucaire and Letty Aronson also return.
Robert Greenhut also returns as producer. Helen Robin is credited as production manager.
Release
Don't Drink The Water premiered on US TV, on the ABC network. It was first broadcast on 18th December 1994 at 8:30pm. At the time, Dumb And Dumber was the top of the US Box Office.
It seems that the film was never broadcast outside of the US. A DVD version was released in various countries outside the US.
No soundtrack was ever released for the film.
The tagline: They couldn't wait to get in. Now it's hilarious trying to get out!.
Reception
With no cinema release for Don't Drink The Water, there are no box office figures. Ratings for the broadcast is unknown.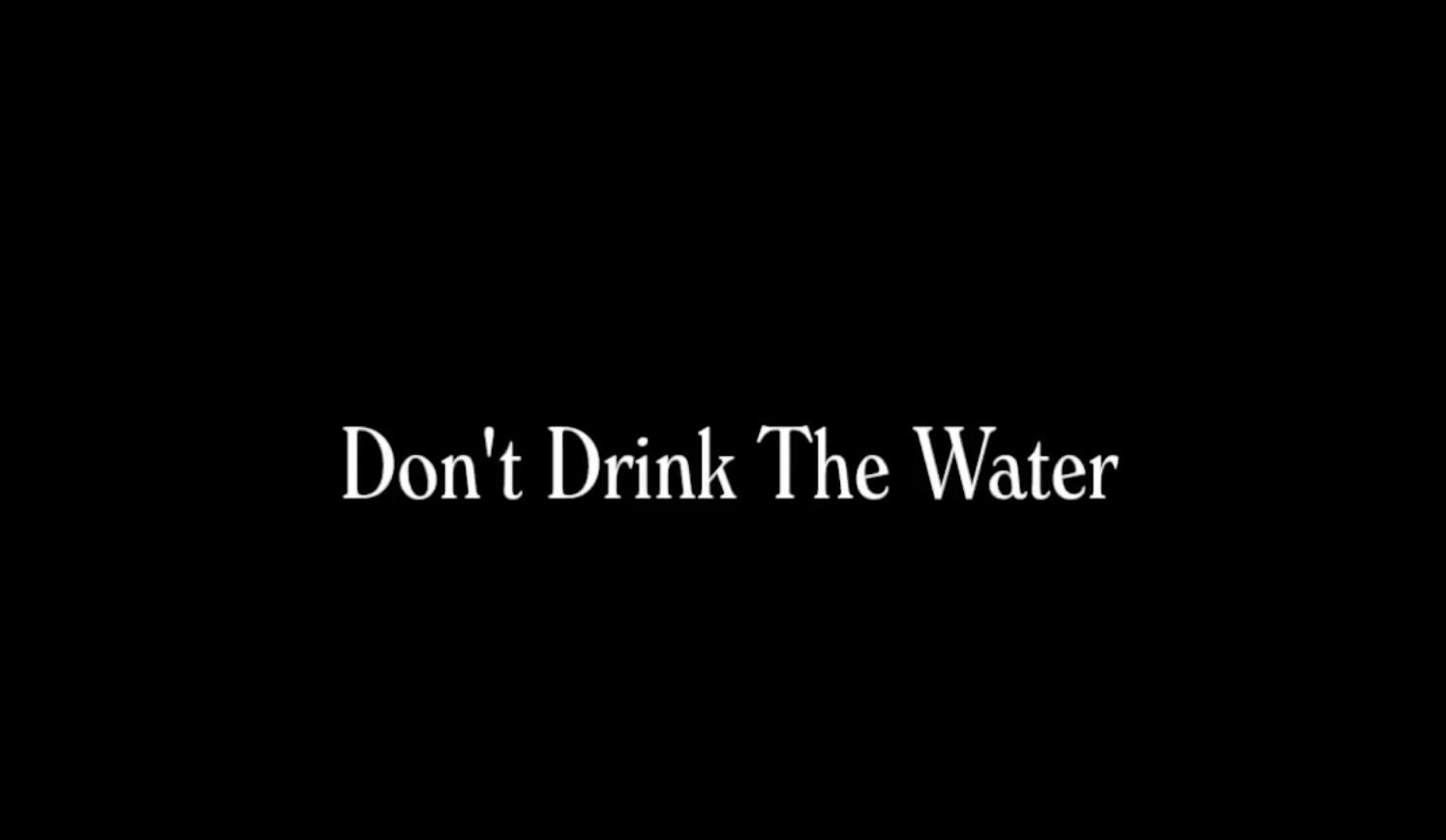 "How can I spy? With my eyesight, I'm gonna be a spy?"

"I'm not saying old. You're not old, but she had bridge work recently."

"Oysters are alive. I don't eat live food.I want my food dead. Not sick, not wounded. Dead."

"Don't you read the papers? This guy owns the most sand of anyone."

"He regrets having had intercourse with my mother one particular night many years ago."