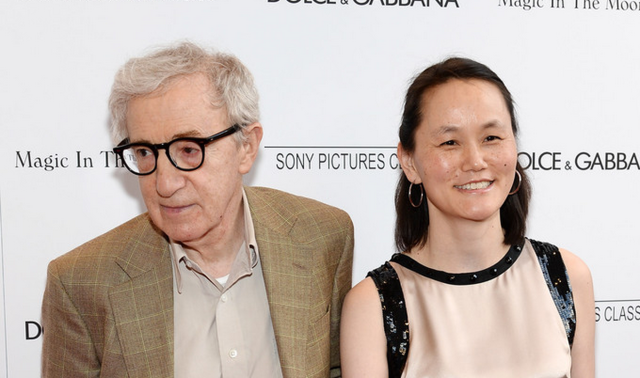 Woody Allen turns 79 today! Yes, next year is a much nicer looking number, but we still wish him all the very best on this day.
Allen's 79th year was a dramatic one. His year started with Blue Jasmine and Cate Blanchett winning all the awards she could. He followed it up with his 44th original film with Magic In the Moonlight. As is his regular pattern of recent years, he filmed his 45th, 2015 film, in Rhode Island with Joaquin Phoenix and Emma Stone.
That big year in the cinema was also added to by Allen's return to acting, his first role he appeared where he did not direct in over a decade. The film was Fading Gigolo, directed by his friend John Turturro. We also saw Twilight Time continue the release of Allen's films on Blu-Ray, while a new distribution deal made many of Allen's films available online for the first time.
It wasn't just the cinema, with the debut of Woody Allen's first ever stage musical with The Bullets Over Broadway Musical. It opened in March and ran for over 100 shows before closing in August. Another stage related release was a new collection of Woody Allen's stand-up albums called The Stand Up Years 1964 – 1968.
Allen kept up his record of playing over 40 shows with the Eddy Davis New Orleans Jazz Band, including a visit to Los Angeles. Some amazing guests have sat in with the band this year – Holocaust Survivor Simon Gronowski, Jeff Goldblum and Molly Ringwald amongst them.
It was a quiet year in terms of prose for Allen. The piece of writing that Allen wrote this year that will probably live forever would be his column in the New York Times. He wrote a letter in response to Dylan Farrow's opinion piece, restating claims of abuse. We avoided the topic on this site, and the very private Allen seems to be continuing his work unabated.
What next? Another film release and it looks like an opera in Spain. More shows with the band, including dates in Europe. And no doubt, come summer, the making of yet another film.
We've been a little quiet with the site, enjoying the uncharacteristic downtime to get some other projects completed. But we will be here to cover Allen's 79th year. And onto 80!
Until then, happy birthday Woody Allen.