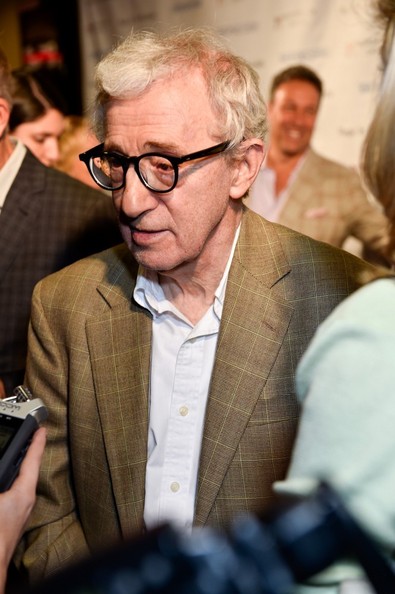 Woody Allen was recently in Chicago to attend a special premiere of Magic In the Moonlight, his new film. That visit has led to two very interesting bits of information – our first real plot details about the 2015 film and speculation about Allen shooting a film in Chicago.
The Chicago premiere of 'Magic In the Moonlight' was held at the AMC Riverside 21. It is not usual for Allen (or limited release films) to have a Chicago premiere. Chicago Sun-Times has the story.
The 2015 film revelations come from Ronald L Chez, an executive producer for 'Magic…'. He reveals that he is also involved in the 2015 and dropped this tidbit:
Chez described it as "a murder mystery, set on a college campus."
This is pretty big news. It's our first real sense of what the story being filmed in Rhode Island might be. We know it's contemporary story. Allen's done a comic mystery before (Manhattan Murder Mystery). Could this be a more serious piece?
This also confirms our suspicions of a college campus being a location we are yet to see. With college aged extras needed for 11th/12th August, we can assume shooting will happen then, in Newport. Newport seems to have at least two locations that could fit the bill – a campus of the Community College of Rhode Island and the Salve Regina University.
Our speculation continues with Chez confirming he is committed to executive producing, and we assume investing, in three more Allen films (including the Rhode Island film). He is based in Chicago and it looks like the special premiere of 'Magic In The Moonlight' there last week, with Allen attending, was at Chez's request.
The Sun-Times asked if Allen would ever film in Chicago.
I would not hesitate. The problem of finding venues to make a movie is to find a place where me and my family can live in for a few months without it getting boring or being uncomfortable. So I picked very good cities in the past.

Chicago is a great city for that. It's not boring. It's full of excitement. It's full of good restaurants and museums and bookstores. It's a great place. I had a lot of good years in Chicago in the past.
Interesting that we are entering another phase of Allen's career – the American journeyman.
Allen confirmed to the New York Times recently that he had secured financing for his next FOUR films. We have heard murky details of Allen's deals with European distributors, so perhaps an existing deal for a Spanish film has yet to be honoured? (Or, of course, someone miscounted)
It's worth noting that Allen is scheduled to be in Madrid directing an opera in July 2015. It would seem a return to Europe would work well for a 2016 film.
A Chicago film is certainly interesting. Usually these things take time. In 2012, Allen's people claimed the location of the 'next few films' had been worked out – so if Chicago was a possible location for the 2016 film, he would certainly know.
But – who does knows? We will just have to wait and see. As usual, there are no shortage of cities wanting to attract Allen to their city. Chicago seems a particularly good fit. It's a legendary film city with all the big city comforts he loves.
Meanwhile, the 2015 film is due to recommence production today in Rhode Island.