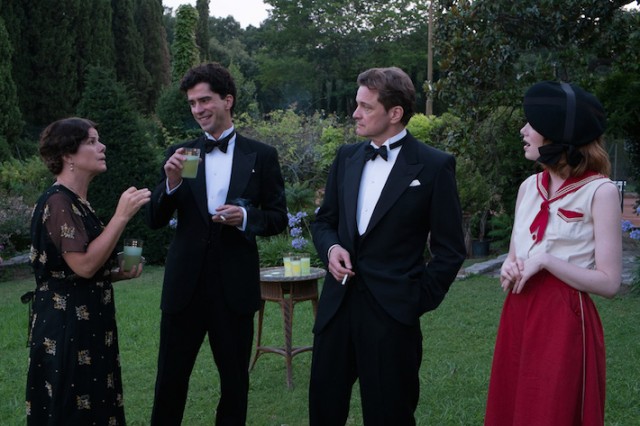 The first round of Magic In the Moonlight reviews have hit the web. Here's a round-up of what people are saying about the latest film written and directed by Woody Allen.
We've tried to keep any spoilers off the excerpts. Overall, critics have been warm, most of it saying it's more than fine.
Variety loved it.
Romance blooms under the sun and the stars in Woody Allen's "Magic in the Moonlight," a high-spirited bauble that goes down easy thanks to fleet comic pacing, a surfeit of ravishing Cote d'Azur vistas and the genuinely reactive chemistry of stars Colin Firth and Emma Stone. A welcome balm for the blockbuster-addled soul, Allen's 44th feature finds the director back in the 1920s Gallic mood of 2011's "Midnight in Paris," with the star-crossed lovers this time held apart not by time but rather by philosophical inclinations. While the result may not quite equal "Midnight'"s box office bonanza, expect "Magic" to handily corner the upscale adult demo for the remainder of summer, continuing the Woodman's late-career hot streak.
Film.com really liked it
If "Magic in the Moonlight" were shot in a scratchier black & white film stock, didn't feature current actors and TCM presented it as a "lost movie from the late 1930s," few would doubt that claim. This is very much high praise.
Time Out gave it 4 out of five stars.
None of this is to take away from Allen's cleverly constructed script. It feels as if it could have been written in the heyday of Old Hollywood—a blithe lark that digs deep at the most unexpected times, as in a terrific scene in which agnostic Stanley dithers his way through a prayer. Allen's never going to be Ernst Lubitsch, and there's a bit of his latter-day laziness on display. (Few directors are as fond of one-and-done master shots that seem envisioned by a loafer longing for the five o'clock whistle.) Yet Magic still casts a lovely, lingering spell.
The Playlist quite liked it.
While "Magic In The Moonlight" trades in the opportunity to say something profound or even meaningful about most of these concepts for unsatisfyingly prosaic and frustrating impressions of romance, there are still gleams of gratification to be found. And perhaps because the movie negotiates sobering reality with a hopeful world beyond, maybe the picture's most fitting trick is how it only delivers a little measure of magic.
BBC liked it.
When I say that Magic in the Moonlight is another of Allen's light-fingered fairy-tale confections, let me be clear that the film is a real cut above the throwaway fare he's been making. Its fun has a pinch of heft to it.
Comingsoon.net gave it 7.5/10
"Magic in the Moonlight" may be feel fairly light and expendable compared to some of Woody Allen's deeper films, but it has his usual irrepressible charm that will appeal to those who have stuck with him through thick and thin.
Screen Daily liked it, and Firth in particular.
If it can be deemed one actor's film, it is Firth's, not Stone's, so it will not get an audience that might flock to a feature that foregrounds her more prominently.
Entertainment Weekly gave it a B-.
Allen's latest offering is the whimsical romantic comedy Magic in the Moonlight. And while it's breezy and funny and perfectly pleasant, you probably won't remember this particular gift by the time the next birthday rolls around.
Hollywood Reporter kinda didn't like it.
Would that he had tossed aside the "master magician falls in love with the lovely clairvoyant he's trying to expose" concept that drives the plot of Magic in the Moonlight, a fugacious bit of whimsy that can only be judged minor Woody Allen.
Indiewire didn't like it.
That being said, this is no travesty of "Scoop"-level proportions, nor does it show the markings of clumsy storytelling like Allen's most recent misfire, "To Rome With Love." Instead, "Magic in the Moonlight" offers a half-baked scenario and follows through on it with largely unmemorable results.
The Wrap hated it and outright hated the romance between Colin Firth and Emma Stone
Even when he falls in love, Stanley can't help openly mocking her for being unable to attribute literary quotes to their authors. The romance's arc is such a middle-aged crank's manic-pixie-dream-girl fantasy, complete with older man learning to enjoy life again through his younger paramour while still retaining his unfailing sense of superiority to her, that it wouldn't have been surprising if the third-act twist turned out to be that he was a vampire feeding off her youth and vitality.
A pretty good start. The US has traditionally been lukewarm to Allen's comedies. 'Magic…' seems like it's going to be one of Allen's lighter crowd pleasers. No one is calling it and landmark work, but another nice comedy with some deepness in there.