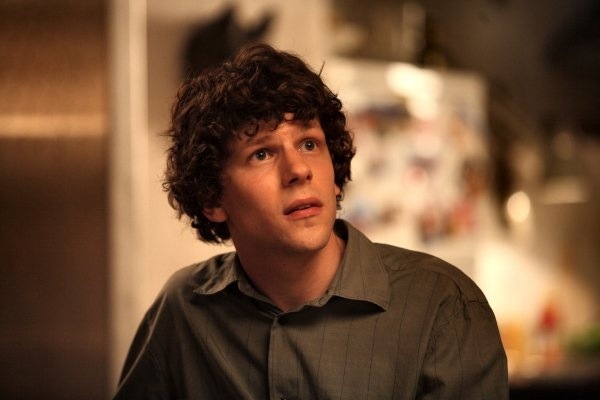 Deadline is reporting that three big stars will be joining the 2016 film written and directed by Woody Allen. Jesse Eisenberg, Kristen Stewart And Bruce Willis will lead the cast of the film which will likely shoot this summer.
Eisenberg has worked with Allen before, in To Rome With Love. Both Willis and Stewart are new to Allen's world. It is another massive coup for Allen and his longtime casting partner Juliet Taylor. All three regularly headline their own films – usually to far more success than Allen! There's another Allen connection – Eisenberg and Stewart have worked together before, in 2009's 'Adventureland', directed by Greg Mottola, who has appeared as an actor in two Allen films (Celebrity, Hollywood Ending). It's all connected.
Eisenberg said in 2013:
[Allen] is my favorite director of all time.
Allen said about Stewart in 2010 to Hollywood Life:
The girl is pretty. I've seen her in the ads and the trailers, but I haven't seen any of the [Twilight] movies.
Willis has never worked with Allen. Although he was married to Demi Moore at the time she appeared in Deconstructing Harry.
Deadline also report that Letty Arsonson, Stephen Tenenbaum and Edward Walson are back as producers.
There was some conjecture about whether there would be a 2016 film at all, in light of the 2016 Amazon Series. Looks like Allen will balance both projects this year. The 2016 film will be his 46th, by our count.
As usual, no other details. Whether we will head to another glamorous European location, or if we will return to New York. Whether it is a comedy or a drama (although, only Willis of the three has any real comic experience).
We expect more casting announcements heading into July, when the film will most likely shoot for two months. It will most likely open July 2016.
In the meantime, the next, 45th, feature film written and directed by Woody Allen, Irrational Man, is due out in cinemas 24th July 2015.