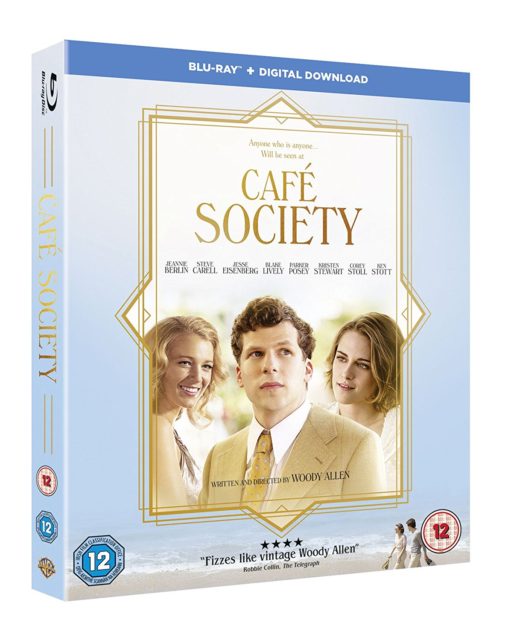 Café Society is the latest film by Woody Allen, which is still playing in some countries around the world. It has wrapped up its run in the UK and Australia, and we now have DVD/Blu-Ray and home format release details for both countries.
Café Society will hit UK home formats on 26th December. The box art (above) reflects the lighter, more star-focussed UK poster with Jesse Eisenberg, Blake Lively and Kristen Stewart. It also features a quote from UK critic Robbie Collins. No word on special features, but the set is available to pre-order on Amazon.
In Spain, the DVD and Blu-Ray is out on 4th January. You can pre-order from Amazon.
In Australia, the title will be released on 18th January. So far, only the DVD has been announced, again with no details on features. You can pre-order at JB Hi-Fi.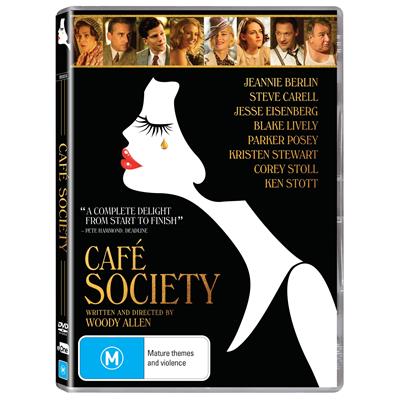 Café Society is already out in the US and France, the first two countries to screen the film.
In related news, the global box office has now hit $43 million. As the year winds down, so does the journey of this film, which started back in May in Cannes. With it being released on home formats, you can go and watch it again!