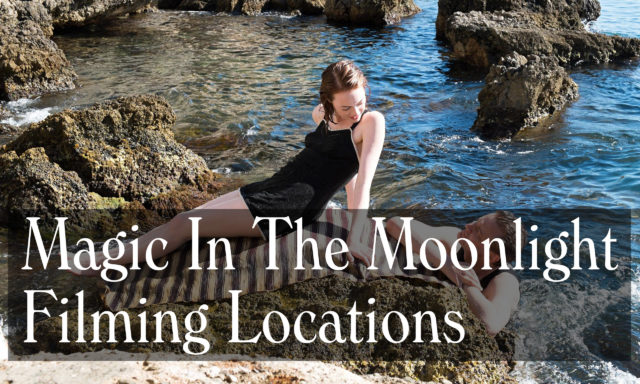 Woody Allen returned to France for the fourth time in his career for 2014's Magic In The Moonlight, but this time he avoided his beloved Paris for more sunshine and open space – the breathtaking French Riviera.
Part of the choice for setting is the beautiful houses and the natural countryside could pass for the 1930s. Along with the period fashion and cinematographer Darius Khondji's sun dripped visuals, it makes for one of Allen's most beautiful films.
Locations used include Nice, Menton, Antibes and more. There was also work in a studio – Studio Riviera, also located in Nice. But lots of greta places to visit – if you can afford it. This is a luxury world.
As usual, a couple of places we don't know at the end. If anyone can help us spot them, please get in touch.
Here's the locations for Magic In The Moonlight.
Opera De Nice
4-6 Rue Saint-François de Paule, Nice.
Opera De Nice stands in for the Berliner Theatre, which was a real place, and destroyed by the Nazis in 1935. This exterior shot was the first night of shooting.
Studio Riviera
16 Édouard Grinda, Nice.
Shooting took place in this film studio. It was both the theatre interior and the backstage area of the Berliner Theatre.
We also suspect some of the seance scenes were filmed at the studio.
We also assume Stanley's home in London is also a set.
Hôtel Negresco
37 Promenade des Anglais, Nice.
Stanley and Howard go for a drink and discuss their mission.
St Andrews Place, NW1, London
Corner Park Square East, near Regents Park
It's marked as Belgrave Place in the film, and a fake postbox was added. Thanks to @MajolaSnake1 for finding the location! It's also worth noting in the film, Stanley says his address is 16 Wilton Cresent, Belgravia – another red herring.
Chateau du Rouet
Le Muys, France
Aunt Vanessa's place is Chateau du Rouet – in particular La Grande Masion on those grounds . It's known for its wine. Both exteriors and interiors were used several times in the film, including one where Stanley (Colin Firth) calls a friend to arrange a press conference. We also see Vanessa's bedroom, we assume is the same house.
Villa La Renardière
447 Chemin des Issarts, 06410 Biot
The Catledges home is one of the film's major locations, and a mix of two locations – this one (Villa La Renardière) and Villa Eilenroc. Villa La Renardière was used mainly for exteriors. For the exterior gardens, the production actually added more plants to make it look even more stunning.
One room was used for interior shooting, the distinctive living room with the battleship wallpaper.
The pool scene was also Villa La Renardière.
Cave Bianchi
7 rue Raoul Bosio, Nice
The night club that the gang goes to listen to 'hot music'. It is actually a wine shop.
Nice Observatory
Boulevard de l'Observatoire, Nice.
The dome was designed by Gustave Eiffel. You might know his tower. Although we suspect the shot of the dome opening might be CGI.
Red rocks on the beaches near Saint Raphael, France.
Could be Pointes De Cadeous, but there's lots of these little spots on the coast near Saint Raphael.
Beach near Maison Forestière du Dramont
83700 Saint-Raphaël
Just south of that landmark, the secluded beach. Thanks to @AccessRiviera for finding it!
Villa Eilenroc
460 Avenue Mrs. Beaumont, Cap d'Antibes, Antibes.
This villa was also used as the Catledge's home, most prominently in the party scene.
The majority of the interiors were filmed here.
This is also the location of the tennis court.
Brice (Hamish Linklater) serenades Sophie (Emma Stone) on the roof.
We assume it is also Stanley's bedroom.
Hotel Belles Rives
33 Boulevard Edouard Baudoin, 06160 Juan-les-Pins.
The La Passagère restaurant in this hotel provide the stunning balcony for a pivotal scene.
Stanley and Howard (Simon McBurney) have a final drink in a different bar in the hotel at the end of the film.
Later, Brice and Sophie eat in another part of the hotel.
Casino Barriere
2 Avenue Félix Faure, Menton.
Used as the location for the press conference.
Domaine de Notre-Dame des Fleurs
Allée des Eucalyptus, Vence.
The hospital where Aunt Vanessa (Eileen Atkins) is treated. Both interiors and exteriors.
Unknown filming locations. Help us find them (or any of these ones)!
Unknown Magic In the Moonlight filming locations. Unmarked roads in south of France, looking over the sea. pic.twitter.com/4Df6tQfi8Q

— Woody Allen Pages (@WoodyAllenPages) December 11, 2016
Check out our Filming Locations series for more Woody Allen location breakdowns.