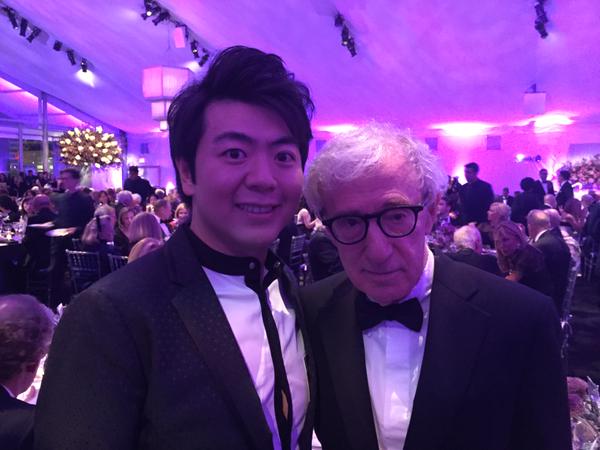 Woody Allen is currently deep in production on his 2016 Film. But that doesn't mean he's going to miss a good gala. The director famously keeps shooting hours to a reasonable working day. Which means even after a day of filming, he can still put on a suit and attend the opening of the newly named David Geffen Hall.
The David Geffen Hall has been renamed from the Avery Fisher Hall. Located in Lincoln Center, it has been in dire need of redevelopment. The $100 million donation from Geffen is a good start. The Eagles sure sold a lot of records.
David Geffen and Woody Allen have some connections. Most notably Geffen's tenure at Dreamworks SKG means he oversaw five Allen films (Small Time Crooks, The Curse Of the Jade Scorpion, Hollywood Ending, Anything Else and Match Point). Dreamwork's also released Antz.
Allen was one of many high profile guests at the opening gala. Oprah Winfrey, Steve Martin, Lorne Michaels, Bob Iger and George Lucas were just some of the guests in attendance. They were treated to a performance from Lang Lang, who snapped the pic of Allen.
What an amazing @nyphil Opening Gala last night! Lots more photos at: https://t.co/syezIycsTt pic.twitter.com/n1eFAdimIz

— Lang Lang (@lang_lang) September 25, 2015
The Lincoln Center has appeared in Allen's most famous films. It is in the opening montage of Manhattan, and it is seen in the final, we need the eggs, moment in Annie Hall. It is also used in Manhattan Murder Mystery, where Allen makes a great joke about Wagner.
Allen's appearance was picked up in the tabloids by Page Six, who overheard Allen make some comments about Donald Trump. The comments aren't new, although Trump news gets page impressions. Interesting, Trump actually appeared in the Woody Allen film Celebrity.
That's it! Pretty sure that the next day, Allen was back at work, making a film.