Woody Allen continues his film-a-year streak, and is currently scouting locations for his 2015 film (his 46th by our count). He has been spotted again, as has Emma Stone who is set to star.
Allen was spotted at The Coffee Exchange in Providence. Along with Newport, this is the second city in Rhode Island where production will take place. It seems as the Coffee Exchange will be used for a scene with Joaquin Phoenix.
http://Instagram.com/p/p8-zRexpjq/
With him appears to be Darius Khondji. Khondji has been cinematographer on four previous Allen films (Anything Else, Midnight In Paris, To Rome With Love and Magic In the Moonlight).
Meanwhile, Stone and partner Andrew Garfield/Spider-Man have been eating around Rhode Island. They took a pic with the staff of Anthony's Seafood in Middletown.
Average Nobodies had the pic.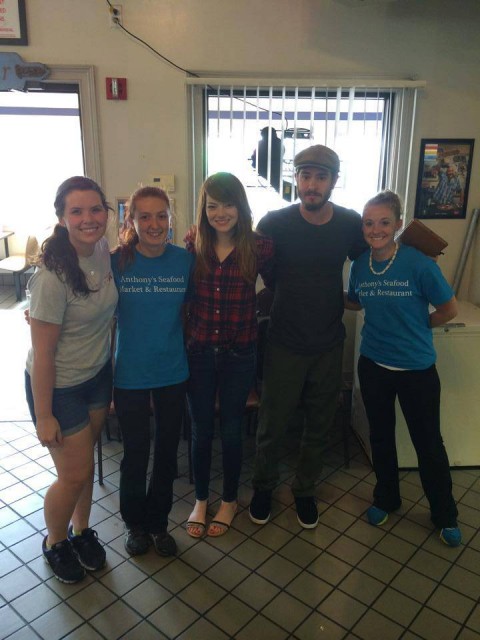 They then headed to Sweet Berry Farm, also in Middletown, according their Facebook.
Then they went shopping at a supermarket in Newport. For food, we assume.
Andrew Garfield and Emma Stone sighting in Newport, Rhode Island (July 2): pic.twitter.com/JcHXCY0zin

— lucas (@fckginsane) July 3, 2014
The stars a definitely not keeping to themselves!
Production is due to start after the 4th July weekend. We know, as usual, little else about the film other than it will be a contemporary story. We expect to hear more about the cast very soon!