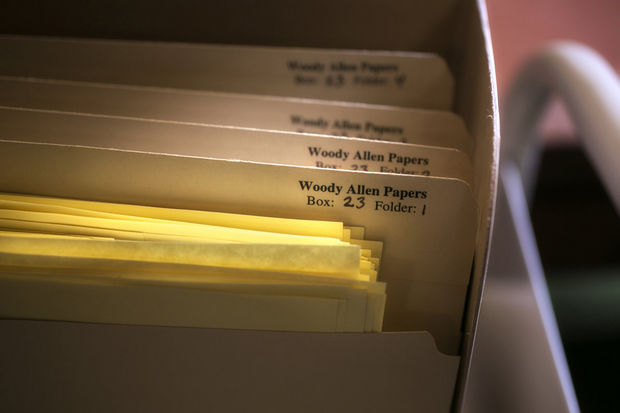 Princeton University are extending their Woody Allen exhibition. Highlighting some of the new papers that Allen has donated to the university, the exhibition will now run until November 17. We also have a small snippet of Allen's appearance at Princeton last month.
Princeton's own blog announced the news, and the exhibition can be found at the Firestone Library.
From their website:
On display are versions of What's New, Pussycat? (1965), Sleeper (1973), Annie Hall (1977), Manhattan (1979), The Purple Rose of Cairo (1985), Hannah and Her Sisters (1986), Vicky Cristina Barcelona (2008), and Midnight in Paris (2010).
Exhibition hours are Monday – Friday, 9:00-5:00, and Saturday – Sunday, 12:00-5:00.
Allen appeared at Princeton on Oct 27th for an interview. The event was not filmed but one video snippet appeared on youtube.
NJ.com also revealed a little more about the contents of the papers. There is at least one unproduced screenplay called 'They Laughed At Fulton'. The article also has insights from Princeton's staff.
After the 17th, the papers can only be viewed with special permission. so if you can get to Princeton this week, you're in for a rare treat. We'd love to know how much of the three hour version of Annie Hall exists in script form.