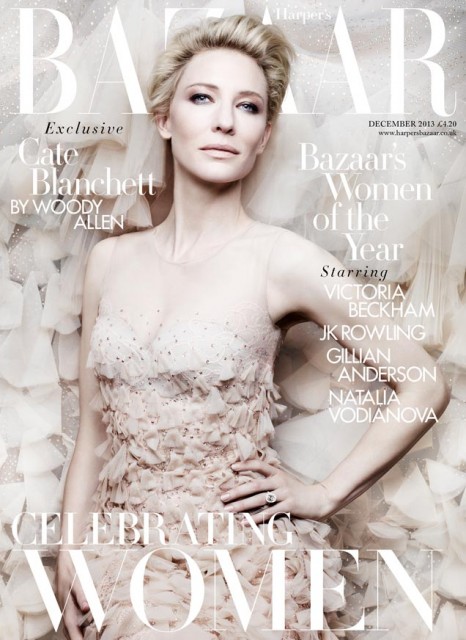 The December issue of UK Harper's Bazaar features Cate Blanchett on the cover. Inside, the Blue Jasmine star interviews her director – Woody Allen.
The interview appears on Harper's Bazaar website and covers a wide range of topics, and are full of revelations. There's also a new photo shoot with Allen and Blanchett together.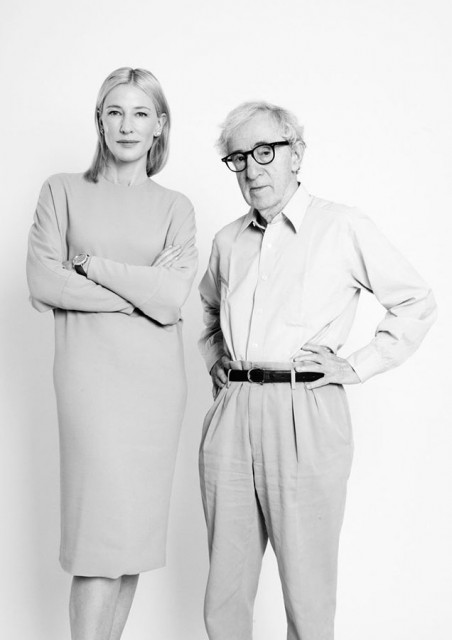 Some excerpts below.
Woody Allen even hates talking on the phone with actors.
CB Well, when you cast me, I was lucky because I lived so far away and we could keep it brief on the phone. We didn't even have to see one another.

WA Even the phone terrified me. When we sent you the script and you wanted to do it that was fine with me. Then I got the call from Juliet Taylor saying: 'Cate would like to speak to you on the phone.'

CB (Indignantly) You told me to call you when I'd read it. I wasn't going to call you otherwise.

WA There is no way I would have said that. That happened when I cast Marion Cotillard. They said: 'She wants to do it, but she would like to talk to you on the phone for a few minutes.' And Colin Firth too: he wanted to talk to me on the phone. My heart always sinks.
Blanchett's Hermes bag in 'Blue Jasmine' was worth more than the entire costume budget.
CB We borrowed it. But the waiting list for those bags is decades. You're in wheelchairs before they arrive. I think I borrowed the PR girl's bag, but I didn't find that out until I'd thrown it on the sidewalk for the seventh time.

WA It's to their advantage for you to be seen in their clothes with their bag. My wife took me on a tour – or forced me into going on the tour – of the Hermès bag factory.

CB That's a very sneaky way of getting one, by showing you the craftsmanship that goes into making them.

WA They made it clear there were no discounts.

CB (Laughs.)
And as usual, Allen is self depreciating when it comes to his family.
WA I've made 45 movies or so, and I think one of the girls has seen two of them, and that's it. They go to the movies with their friends and see the drivel that their peer group watches. You know they're nice kids but they have no interest in me. They see me as an idiot savant who can make films but can't change his typewriter ribbon.
The full article has lots more, including many insights into Blanchett's life as well.
'Blue Jasmine' is currently in theatres in the UK and most of Europe.