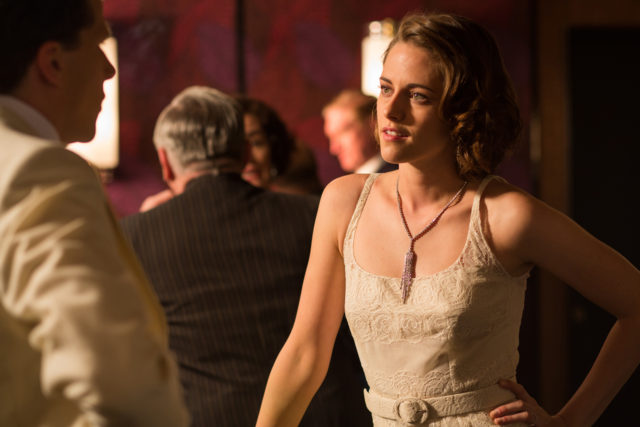 Café Society is the latest film written and directed by Woody Allen. It was acquired by Amazon, who has now begun an awards campaign for the film. It has started with screeners being sent out to industry and Academy members. Amazon is also looking for nominations for Crisis In Six Scenes, the TV series they produced by Allen.
Gold Derby reports on the screeners, along with two other buzz worthy award contenders from the studio – Love And Friendship and Neon Demon. Which means they are delivering the films into the hands of award voters, making sure the films have the best chance. They are also sending them out early, meaning they have a better chance of being watched.
The categories Amazon are submitting for Café Society are, reportedly:
– Best Picture
– Best Leading Actor, Jesse Eisenberg
– Best Supporting Actor, Steve Carrell
– Best Leading Actress, Kristen Stewart
– Best Supporting Actress, Blake Lively
– Best Cinematography, Vittorio Storaro
– Best Production Design, Santo Loquasto, Regina Graves
– Best Costume Design, Suzy Benzinger
– Best Film Editing, Alisa Leisester
– Best Makeup and Hairstyling, Stacey Panepinto, Christine Fennell-Harlan
– Best Sound Editing, Robert Hein
– Best Sound Mixing, David J Schwartz, Lee Dotter, Robert Hein
The obvious ones that are missing is the famously awards-adverse Allen in the category of Best Director or Best Screenplay.
There's been many predictions for what will get nominated and win, and it seems that all the categories seem unlikely for Café Society. Kristen Stewart seems the best bet for the major awards. Vittorio Storaro seems to have an outside chance for cinematography.
Gold Derby also reports that Crisis In Six Scenes has been submitted to the Golden Globes as a limited series (as opposed to a comedy). Allen has again opted out of the race.
We won't really know more until next year, with Academy Award nominations announced in January.
Meanwhile, Café Society is out now on DVD in the US, and playing in Europe, Australia and much more.