News Bits! Our twice monthly round up of Woody Allen bits from around the web.
As is usual when there is actually big Woody Allen news (like Cannes, or a tour) that there's very few news bits. But hey, here we go.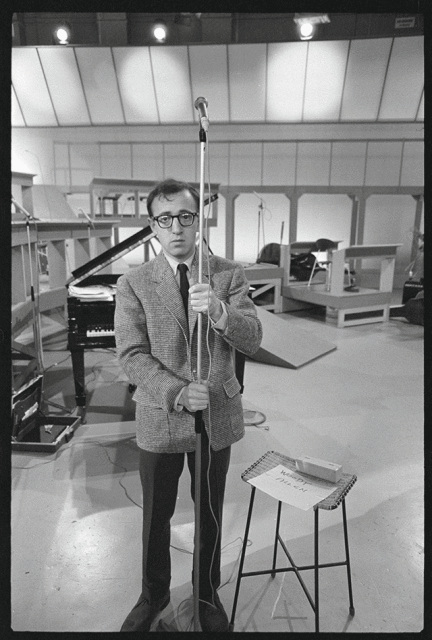 Amateur Photographer recently scored an exclusive – hundreds of unpublished entertainment photos from the 60s. The big haul were new photos of the Beatles in the height of Beatlemania. There was one photo of Allen (above) taken from the filming of 1965's 'The Woody Allen Show' a variety special made years before Allen made his first film.
The Wrong Reel blog recently looked back at Manhattan, and recorded a video about the film.

Because we find it funny, turns out that the former head of the European Commission has evoked Allen, according to the Independent.
"l compared the case of Portugal to the film 'Match Point'," Jose Manuel Barroso, the former president of the European Commission, and one-time prime minister of Portugal said, referring to Woody Allen's film.

"Which side of the tennis court would the ball land on after hitting the net? Ireland or Greece. It was Ireland's. Recovery is now under way in Portugal."
Woody Allen was listed in NY Daily News' list of 30 stars who went to NY public schools.
Fan art corner
New artwork for sale! – "Woody Allen Paint Splatter" – http://t.co/Wjxfwv9tJl @fineartamerica pic.twitter.com/ZhyOuli1nS

— Dan Sproul (@orionsthera) May 18, 2015
Turns out Allen appeared in an issue of cult comic Cerebus.
Woody Allen según Dave Sim. pic.twitter.com/Z7pryYct6W

— Lucas Ferrero (@LucasFerrero83) May 29, 2015
Woody Allen in Ann Arbor. Sometimes we think about collecting a database of all the Allen inspired street art, statues etc. What do you think?
Finally, not sure why this exists, but a bunch of folks recreated a scene from Bullets Over Broadway and took photos.