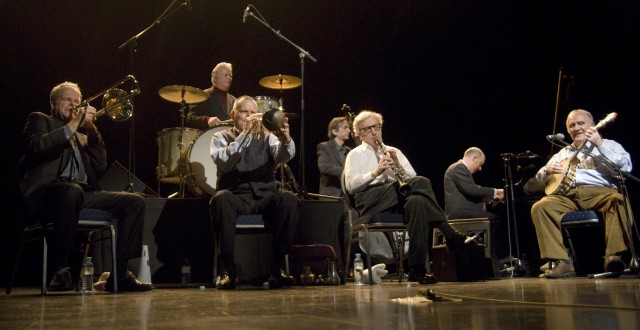 Woody Allen and the Eddy Davis New Orleans Jazz Band are going on tour in August. We broke the story with the dates along with an exclusive interview with trombonist Jerry Zigmont. We now have the full list of venues as well as links to buy tickets.
It is unusual for Allen and the band to tour the US, although it is unusual for him to shoot two films in a row in the US (something he has not done since Anything Else/Melinda And Melinda).
August 2, 2015 – Minneapolis, Minnesota
New Century Theater
August 3, 2015 – Seattle, Washington
The Moore Theater
August 5, 2015 – Mill Valley, California
Throckmorton Theater
August 6, 2015 – San Francisco, California
The Regency Ballroom
August 8, 2015 – Los Angeles, California
The Orpheum Theater
The dates co-incide with Allen's usual summer break to promote and make films. The regular Monday night concerts will continue at the Carlyle Hotel until 22nd June. It will then be time to promote Irrational Man in July. August takes Allen into production of his 2016 film, which will be shot in part in Los Angeles.
The Carlyle residency will resume some time in September, and the band will perform every Monday night until Christmas. The best place to get up to date details is at Jerry Zigmont's website.