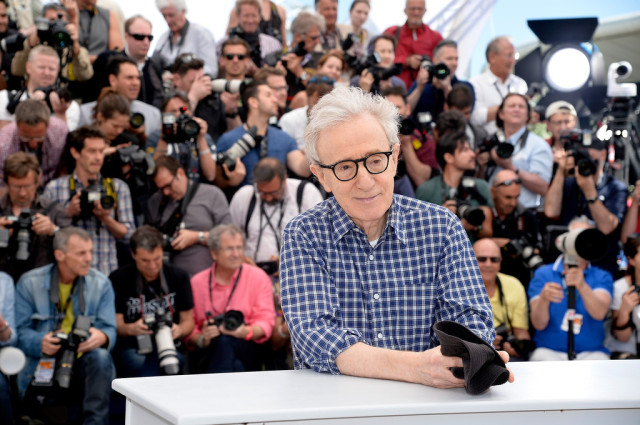 The last couple of days has been an intense media blitz for Woody Allen. He premiered his new film Irrational Man at the Cannes Film Festival, and with it he sat down and spoke to journalists for the first time this year. Throughout the interviews he dropped many things of interest. We thought it would be good to dissect it here.
On the 2016 Amazon Series
Streaming services are big news, but not to Allen. He seems like he only just heard of them. Allen made several comments in several interviews about his upcoming Amazon series, and it has been picked up by many news outlets.
Mainly that he is floundering, and that he is worried it will be a "cosmic embarrassment". It is worth noting that he thinks that of every new project.
Here's what we do know. The deal is six half hour episodes – so we were wrong to assume it would be ten like other Amazon series (like 'Transparent'). Allen must have an idea to flounder it. Despite reports, there is a deadline and it's the end of 2016. And it will not interupt his film-a-year schedule.
He mentioned that the series can be film abroad, but no other details seem to be locked down (We really, really hope it's the Sidney Bechet biopic).
On his 2016 Film, and ongoing films
Allen offered little real details about the film he plans to shoot in August.
What we did learn is that Allen will likely shoot his next film digitally. He is already using Avid to edit his films.
It also seems there is no stopping Allen. He made several comments about continuing to make films until he physically can't make films anymore.
On 'Irrational Man'
It was interesting that Joaquin Phoenix was a no-show at Cannes. He has attended the festival before in 2007 (for 'We Own the Night'), however a lot has changed for the actor since then. There was one passing comment that perhaps Alec Baldwin was considered for the role, but that might only be in Allen's head.
Typically, Allen didn't try to explain the film too much, and talked more generally about his feelings towards life. When asked about Emma Stone or Parker Posey, he pretty much joked around. About the film – he basically stuck to his line of "I just made it up".
When pushed, he did speak quite elegantly about the philosophers mentioned in the film.
On his own career
If anything, he has become more harsh on his own work. Match Point seems to be his favourite of his own films, but he admits that feeling has wavered over the years. He made comments about wishing he could remake all his films, and also hating them all (although that might have been a joke).
On life, film and more
Allen remains as grumpy when it comes to modern filmmaking. He didn't have much to say about the commerce of Hollywood and the rise of superhero films. Yet, films and entertainment are still the best way to distract you from the horrors of life. Otherwise, it seems, you'd be home wondering about ebola. And life will roll over you.
Oh Woody.