Irrational Man is the upcoming film written and directed by Woody Allen. It will be his 45th full-length feature as writer/director. We now have the first poster for Irrational Man (all others so far have been fakes). Here it is below. IMDB had the exclusive. Click on the image to embiggen.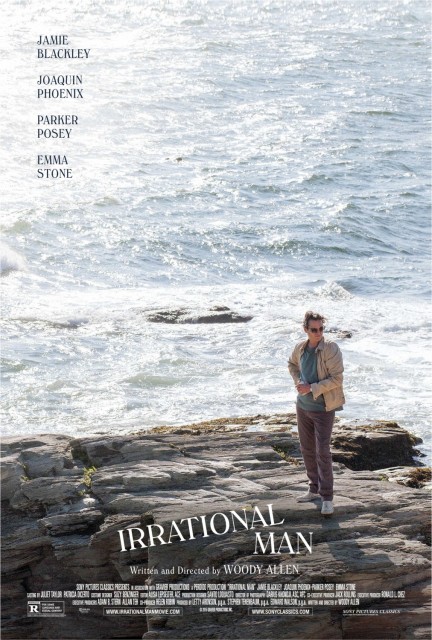 There's definitely similarities to the Blue Jasmine poster, in particular the colour and the cast names layout. It really makes the film all about Joaquin Phoenix's Abe. You have to imagine marketing wanted to put Emma Stone in the poster because she has Emma Stone's face. They've subtly played around with the name as well. It's tilted – you know, like Abe is.
What is most striking is simply how beautiful it is. We're guessing that's the shore along Beavertail National Park in Rhode Island. The poster looks great as a thoughtful film for the arthouse crowd in the US. Other countries usually make their own posters, so let's see if anyone trumps this design.
Meanwhile, we have to add another banner to our site!
'Irrational Man' will be released in New York and LA on 17th July 2015. It will roll out to other cities and countries in the weeks to follow.