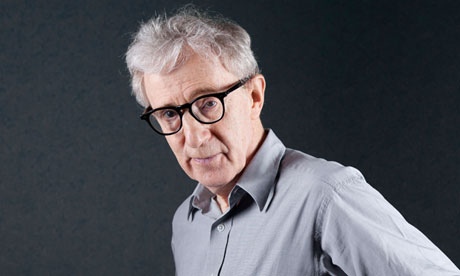 To Rome With Love, the new film starring, written and directed by Woody Allen, was released in the UK this week. Woody Allen did a fresh round of interviews for the UK press, who have also jumped in with their reviews.
The Guardian has the best piece, written by Oliver Burkeman. The long piece covers a lot of ground, including addressing his new film's critical standing in the city it was shot:
In Italy, they said: 'This guy doesn't understand Italy.' And I can't argue with those criticisms. I'm an American, and that's how I see Barcelona or Rome or England … If the situation was reversed, and somebody from a foreign country made a film here, I might very well be saying: 'Yeah, it's OK, but this guy really doesn't get New York.' And I'd be right. And I'm sure they're right.
Allen is forever one for a good line, also had this to say about the French:
They think I'm an intellectual because I wear these glasses, and they think I'm an artist because my films lose money.
The Telegraph also spoke to Allen. In that intview he discussed the initial inspiration for his new anthology film:
I felt it lent itself to so many diverse tales. If you stop a hundred Romans they'll tell you: 'I'm from the city, I know it well and I could give you a million stories.'
The quote that's really been picked up is Allen talking about his own appeal and his audience:
I make films for literate people," he says matter-of-factly. "I have to assume there are many millions of people in the world who are educated and literate and want sophisticated entertainment that does not cater to the lowest common denominator and is not all about car crashes and bathroom jokes.
The reviews however have been positive to negative:
First up is our favourite UK critic, Mark Kermode, who reviewed the film as part of a special show on BBC Five Live, hosted by Simon Mayo. The review, in which Kermode is positive and raves about it's humour, is preserved on video.
Peter French of the Observer adored it:
Woody Allen channels the spirit of Fellini with four engaging tales of sex, celebrity and married life…I greatly enjoyed this film.
Peter Bradshaw of the Guardian found something to like:
This film is far from the greatness of earlier years, although it sometimes has a cantering gaiety and sense of farcical fun.
Simon Reynolds of Digital Spy gave it 3 stars out of 5:
To Rome with Love will certainly find favour with fervent Woody Allen fans, but after returning to form with Midnight in Paris it'll likely be viewed as a step backwards.
Larushka Ivan-Zadeh of the Metro also gave it 3/5:
To Rome With Love, a pleasant enough comedy, hovers unmemorably around the middle.
Philip Kemp of Total Film gave it 2 stars out of 5:
Four trivial stories, forced laughs: don't expect much more from Allen's latest postcard from Europe.
Simon Brew at Den Of Geek also gave it 2/5, but seemed to like it a little more:
As is stands, while not the disaster it's been painted as, To Rome With Love has little to actively recommend about it.
Daily Mail's Chris Tookey also comes in with a 2/5
To Rome With Love is carelessly written, uneven in quality, and nowhere near as charming as Midnight In Paris; but its good points place it in the lower-middle range of Allen's output. You should enjoy bits of it.
Anthony Quinn of The Independent gave it 2 stars:
This latest isn't terrible, it's just slipshod and careless, like a first draft he hasn't bothered to work on and tighten up.
Anna Rogers of ListFilm called it "joyfully silly":
Although To Rome With Love may not be 'major' Allen, it contains treats aplenty.
Derek Malcolm of the Evening Standard was very damning:
Whereas Midnight in Paris was freshly imagined (and became Allen's most successful movie ever), this stale and flaccid exercise looks as if it has come from one of those old notebooks in which he keeps discarded ideas.
Finally, Robbie Collin of the Telegraph gave it 1 star.
Allen's vision of the Eternal City is about as authentic as a ham and pineapple pizza: every street is cobbled and garlanded with ivy, and his Italian characters have all the nuance and subtlety of the puppets from the Dolmio advert.
The Irish have been a little nicer.
Paul Whitington of the Irish Independent has been the kindest.
To Rome with Love jumps about a bit, and Allen doesn't bother to tidy up the loose ends production wise. But the odd sloppy moment is almost part of the film's charm: it's hugely likeable and, in patches, sublimely funny.
John Byrne of RTE said it lacked humour:
Well, it's not as bad as I feared, but it's not great either. All it really lacks is a bit more comedy. Y'know, some snappy lines like you'll find in his early movies such as Bananas, Play it Again, Sam and Sleeper, which is where this movie fits in terms of Allen's output.
In addition to all that coverage, the Lee Marshall of the Telegraph in the UK provided a nice piece on Rome itself, inspired by the film.