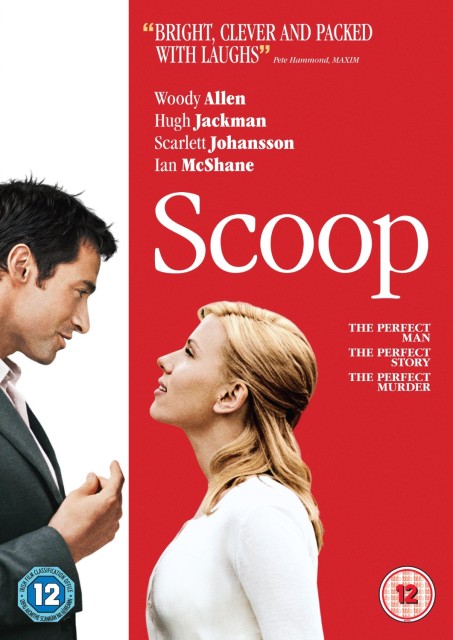 This one missed us by. It still seems a bit weird, but it looks like Scoop, the 2006 film written and directed by Woody Allen, is out on DVD for the first time in the UK. Of course, the film that stars Hugh Jackman and Scarlett Johansson was filmed in the UK.
The DVD set comes from Icon Distribution and was released on 9th February 2015.
Scoop has a strange history in the UK, and was part financed by the BBC and first released on TV. Despite the big stars, it was never released on DVD in the UK until now.
The new DVD has a slightly different cover from the other versions. It kind of looks like they've used an approximation of the Woody Allen font (Windsor light) as the logo.
You can buy the new DVD at Amazon UK
Here's the synopsis:
Woody Allen writes, directs and stars in this comedy crime thriller alongside Scarlett Johansson and Hugh Jackman. The film follows American journalism student Sondra Pransky (Johansson), who, while taking part in a show presented by magician Sidney Waterman (Allen) in London, is visited by the ghostly apparition of the recently deceased journalist Joe Strombel (Ian McShane) and told the identity of an alleged serial killer. As Sondra and Sidney try to uncover whether there is any truth to these claims, Sondra begins to fall in love with the suspect, British aristocrat Peter Lyman (Jackman)…
'Scoop' is out now in UK!