Music Of Woody Allen Films – a new irregular feature about the musical compositions that have helped to make Allen's films sing.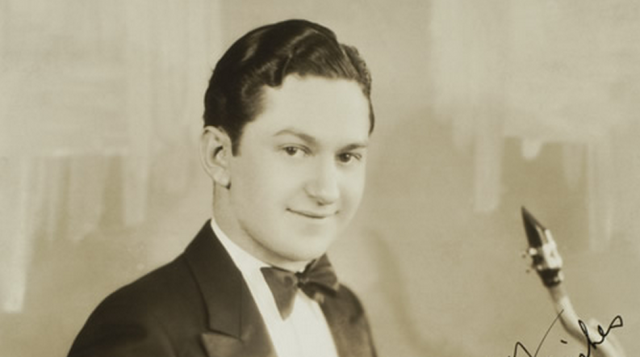 I'm Thru With Love
Composed by Fud Livingston, Matty Malneck (music) and Gus Kahn (Lyrics) in 1931
Used in Everyone Says I Love You
"I'm Thru With Love" (also referred to at times with the infinitely more boring 'through') is a beloved jazz standard that has a huge place in the history of cinema – and it has nothing to do with Woody Allen. Although it will be remembered for another film, it also soundtracks one of Allen's best film moments.
Three men are credited with writing the song in 1931. Two wrote the music; Fud Livingston – who played clarinet and saxophone – and Matty Malneck – who played violin and viola. The third man was a lyricist – Gus Kahn – one of the most acclaimed in the Tin Pan Alley era.
Interestingly, Wikipedia editors have not even listed the song on Kahn's page – he has dozens of better known compositions. One of the greats, Kahn had been writing lyrics for almost two decades by 1931. He worked with other greats – George Gershwin, Jerome Kern and many more. Two other Kahn lyrics appear on the soundtrack to 'Everyone Says I Love You' – "My Baby Just Cares For Me" and "Makin' Whoopee" (both written with Walter Donaldson). We will return to Kahn in a later column, as he wrote lyrics to another song used in one of our favourite Woody Allen scenes.
For Livingston (real name Joseph), Wikipedia claims he is 'especially renowned' for his part in "I'm Thru With Love". Livingston spent the 20s as a session player, but by the 30s had moved to arranging. In was during this stint that he co-wrote this jazz classic. Livingston eventually moved to publishing, and according to to Allmusic, died in obscurity. Funnily enough, Livingston would slip doormen a $20 so that the club band would play "I'm Thru With Love" and throw the spotlight on him to impress dates.
Malneck had a similar career. Playing as a soloist in various bands in the 20s, he moved into composition in the 30s. He also co-wrote "I'll Never Be the Same" and wrote several songs with Johnny Mercer. He continued to work with big bands into the 40s and recorded sides for Decca Records.
None of the three men worked together before or since. It was the time – people were collaborating with whoever was around, and changing up the formula, trying to get a hit. A melody here, a lyric there – it was a big melting pot of ideas, but also tough for a distinctive voice to emerge.
"I'm Thru With Love" was first recorded in 1931 by the Henry Busse And His Orchestra, although Bing Crosby recorded it later that year.
There are dozens more versions, but history will remember one in particular. Marilyn Monroe, in her memorable (and we reckon, best) performance in 1959's 'Some Like It Hot', directed by Billy Wilder. In her role as Sugar Kane, Monroe performs the song, and really makes it her. It rivals "Diamonds Are A Girl's Best Friend" as her signature song. It's certainly a better song.
Allen loves 'Some Like It Hot' and would be well aware of the connection, but used it in 'Everyone Says I Love You' anyway. Monroe was never the strongest vocalist, and the easy melody of the song maybe convinced Allen that he could sing this number too. Alan Alda, Edward Norton, Natalie Portman and Goldie Hawn all sing parts of the song in the film.
But it is that magical dance scene, with Allen and Hawn along the Seine, where this song really shines. It is one of Allen's greatest flights of fancy. Dick Hyman and the New York Studio Players contribute music. Hyman has worked on 11 of Allen's films, from 1983's Zelig to 2004's Melinda And Melinda.
In many ways, "I'm Thru With Love" is just another great song from the era. It's story is typical of many songs of its time, and who knows if Kahn was writing from the heart or for a paycheck. But the song still strikes a chord – and all the credit to Kahn for writing a lyrics that is both timeless and full of wit (how great is the line – "I've stocked my heart with icy, frigid air"). It's a wonderful ode to heartache, and the irony of the one who cares no longer for love, singing so well about it.
"I'm Thru With Love" is a song from cinema, and will be remembered that way. Allen's every-day, street-level musical pays tribute to classic cinema musicals – and there was no better song choice to make that clear. And of all the songs in the history of cinema he chose to sing, he chose "I'm Thru With Love".
Here is the beloved version by Nat King Cole.
Above image is Fud Livingston. We couldn't find a good image for Kahn, or one of any quality for Malneck.
Find all our the stories in our Music Of Woody Allen Films series. What song should we look at next?