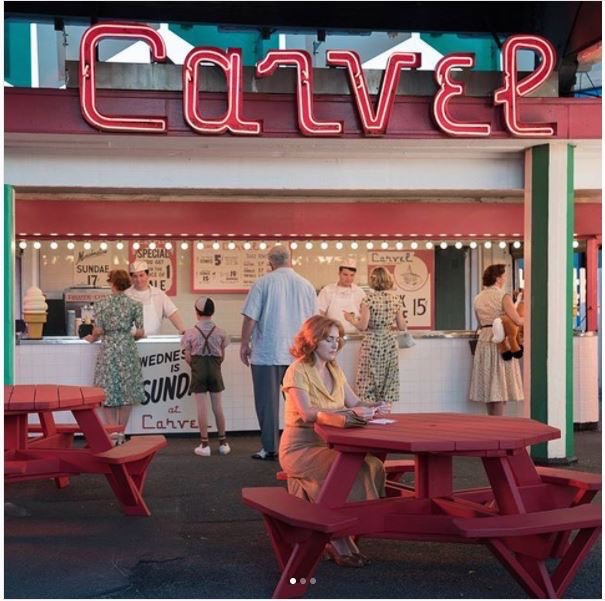 Wonder Wheel is the new film written and directed by Woody Allen. It is set to close the New York Film Festival, currently running, and will open properly in December. Page Six has some new comments from Allen about the new film. We also have another new photo and word on the trailer.
Page Six is a tabloid, and managed to get some comments out of Allen on the new film.
The use of CGI and special effects in the film:
Factored into post production time's budget was re-creating the Cyclone and Parachute Jump. I couldn't do that before for any reasonable money, but with special effects it's now not a prohibitive cost.

Live portions were difficult because under boardwalk sections — which are now removed — is where people used to make love, so I had to intercut other places to stick into the movie.
He had nothing but good things to say about the cast.
My actors in this are Kate Winslet, Justin Timberlake, Jim Belushi and young, attractive Juno Temple. They like good parts that aren't just car crashes. I sent the script. They were enthusiastic. Belushi I saw 40 years ago in a romantic part and I filed him away in my mind.
Not very in depth. Along with the yearly film, Allen usually has an in depth interview with a newspaper or two every year.
We do have a new, wonderful image of Winslet, which we used above.
We also appear to have confirmation on the trailer for Wonder Wheel. It will play in front of the other Kate Winslet film out this season – The Mountain Between Us. It is set to open on 6th October, so the trailer will go online this week.
CONFIRMED: Teaser Trailer For Woody Allen's #WonderWheel This Week https://t.co/iouKzawSdg pic.twitter.com/yMxZO51ZFy

— TrailerTrack (@trailertrack) October 2, 2017
Wonder Wheel will premiere on 14th October. We hope for more info and publicity very soon.