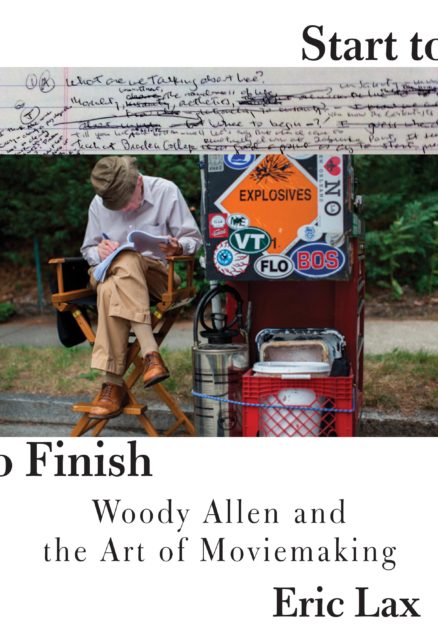 A new Woody Allen book is out now. Called Start to Finish: Woody Allen and the Art of Moviemaking, it is written by Eric Lax, who has been covering Allen since 1971, and has written three books about Allen to date. You can get the new book on Amazon US or Amazon UK.
The new book is a snapshot of a year in Allen's life, as Lax follows the making of Irrational Man, his 2015 film with Joaquin Phoenix and Emma Stone. Lax follows Allen, with exclusive access, through the whole process – Allen choosing the script from several ideas, writing it, casting, production, music, mixing and the release. The production in particular is showcased in a long chapter, where Lax is on set every day. The details on the process of filmmaking is fascinating.
More than Irrational Man, Lax takes each section and talks about Allen's process through the years, and also how it differs from convention. He also talks to the crew and people around the production. Interestingly, production designer Santo Loquasto is hilarious. And there's interesting tidbits throughout from other films, particularly the recent Magic In The Moonlight.
There's been publicity around the comments made by Moses Farrow in the book. Moses is Soon-Yi Previn's brother, now 39, and was caught up in the bitter court challenges between Mia Farrow and Allen in 1992 and 1993. New York Times has written about it, and we won't rehash it here. But the passage is very disturbing, very powerful. Unlike a lot of opinion pieces out there, Lax presents the facts, from the police, the investigators, the maids, the family and more. Facts are unlikely to change anyone's mind about the topic, and it's clear that the story is getting only some traction in the media. It is a shame that Moses is listened to more.
Start To Finish has much more to offer. Robin Williams dies during production, for an interesting segment. And there is insight into Allen's deal with Amazon and upcoming films. And all the production stuff – how Allen likes to alternate interiors and exteriors, what is important about a shot – it's a huge insight into filmmaking for anyone interested.
Start to Finish: Woody Allen and the Art of Moviemaking is out now.