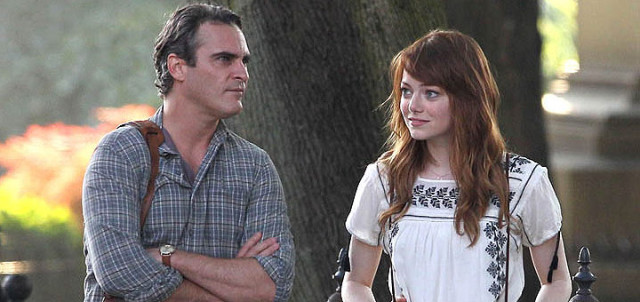 Irrational Man is the upcoming film written and directed by Woody Allen and starring Joaquin Phoenix and Emma Stone. We now know exactly how upcoming as we have the US release date. We also now know the Spanish distributor.
The US release date for 'Irrational Man' is 24th July 2015. It will make it Allen's fourth film in-a-row to be released in the last week of July (starting with To Rome With Love), and fast becoming a tradition. It will be distributed in the US by Sony Pictures Classics.
Exhibitor Relations tweeted the date.
Woody Allen's next film, IRRATIONAL MAN, hits screens July 24, 2015 from Sony Classics. Emma Stone, Joaquin Phoenix star.

— Exhibitor Relations (@ERCboxoffice) February 4, 2015
We also assume the pattern of a July release in New York and Los Angeles, followed by a quick roll out and a wide release in the US mid-to-late August.
We also have a Spanish distributor. eOne has picked it up in that market, although no date has been set. This is a new distributor for Allen in Spain. Warner Bros released his last two films (Blue Jasmine, Magic In the Moonlight).
We expect many of the worldwide distributor deals to be locking in now, and should hear more in the coming weeks. Don't expect trailers or posters until much closer to July.