Woody Allen made an appearance at his good friend Barbara Walters' retirement party – Walters is retiring at age 84. The cocktail reception was held at the Four Seasons on Wednesday. Allen was accompanied by his wife Soon-Yi Previn.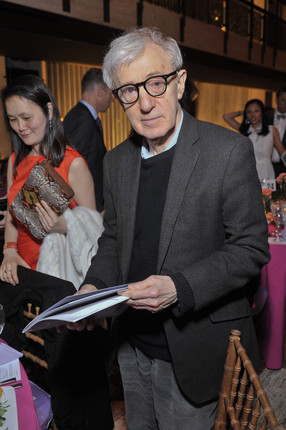 Vanity Fair had a pic. The Wrap also got some comments out of Allen.
On the state of journalism.
"It'll suffer from Barbara's loss," he said. "But the news media will be fine, it will always be fine. It's a tough, gritty profession, and a great one."
On journalists.
"I made a journalist the hero of my movie at one point –" he said, the title momentarily escaping him. He turned to wife Soon-Yi. "What was the movie I did in London? 'Scoop'!"

He added: "Journalists have always been heroes to me. I was almost going to be one myself when I was younger."

What kind?

"A sports journalist," he said.
Allen got to live out being a sports journalist in Mighty Aphrodite!
Lots of stars in attendance, including Alec Baldwin, who appeared in three Woody Allen films (Alice, To Rome With Love and last year's Blue Jasmine).
Via @MaraSiegler Woody Allen gives Alec Baldwin advice on riding a bicycle in NYC @BarbaraWalters retirement party pic.twitter.com/OSBQt8ti8X

— Page Six Emily (@PageSixEmily) May 15, 2014
Baldwin has been in trouble lately, having been arrested for riding his bike against traffic. Baldwin knows he was wrong, and looks like he and Allen talked about.
The one and only Woody Allen told me tonight that his biggest pet peeve in NYC is cyclists who ride against traffic.

— ABFoundation (@ABFalecbaldwin) May 15, 2014
Commedienne Joan Rivers also caught up with her old friend.
At a party for Barbara Walters. Saw my dear old friend Woody Allen. We go back to our days in Greenwich Village. pic.twitter.com/KJeiGl1Toj

— Joan Rivers (@Joan_Rivers) May 15, 2014
It's nice to see Allen out and about, but shouldn't he be cutting a trailer or approving a poster for Magic In the Moonlight, eh?