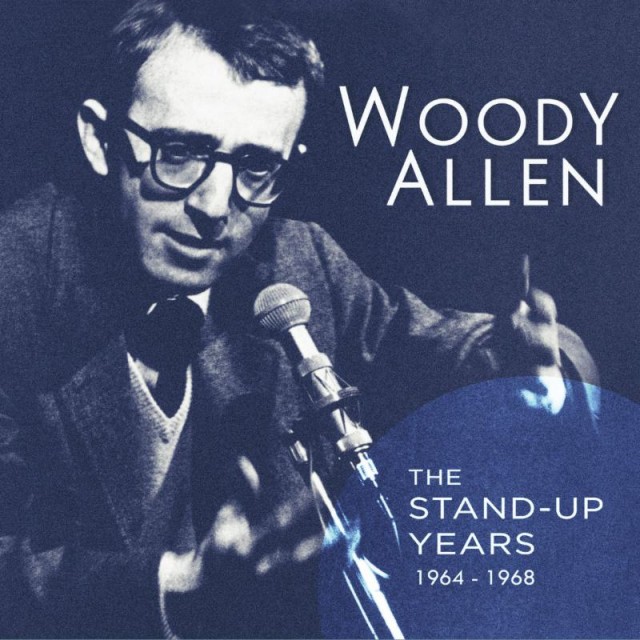 Woody Allen's three stand-up albums from the 60s are being reissued in a new 2CD package this November. The new edition, called 'The Stand-Up Years: 1964-1968', features material that has not appeared on CD before, and other bonus material.
The new title will be released by the label Razor & Tie. It collects together the albums Woody Allen (1964), Woody Allen Volume 2 (1965) and The Third Woody Allen Album (1968). A year later he would write, direct and star in his first proper film in Take The Money And Run.
It will be released in the US on 25th November 2014. Whether this will be released outside of the US is unknown. The cover is above.
These albums have previously been issued as a 1CD set 'Stand-Up Comic' by Rhino Records in 1999. There is one track that was released on vinyl that will see a digital release – Questions and Answers from 'The Third Woody Allen Album' – although perhaps they've gone back to the vinyl masters.
There is also bonus audio extracts from Woody Allen: A Documentary, with Allen discussing his time on the stand-up circuit. The director of that documentary, Robert Weide, also pens the liner notes for the release.
Here's an excerpt.
The preponderance of his stand up is delivered in the form of short stories — extended anecdotes with a premise, a through-line, and a conclusion. There's no shortage of laugh-lines along the way, but all are in service to the story, which plays to Allen's stage persona. He has referred to his routines as "verbal cartoons" (meaning the animated kind, not the single panel), and listening to these recordings, it's evident what he means. The bizarre first-person narratives couldn't possibly happen to the flesh-and-blood Woody Allen, but it's all quite credible for a cartoon Woody. The scenarios roll out as if from a memoir authored by Allen's reflection in a fun-house mirror. If the opening line seems borderline plausible ("I shot a moose once…"), it's only because your roller coaster car is being momentarily pulled to the top of the incline. But hold on, because after that first exhilarating drop, the thing just keeps picking up speed, then it's one absurd twist and surreal turn after another. And you won't see it coming.
Here's the tracklisting.
Disc 1
Recorded Live at Mr. Kelly's, Chicago, March 1964:
1. Private Life
2. Brooklyn
3. The Army
4. Pets
5. My Grandfather
6. My Marriage
7. Bullet In My Breast Pocket
8. N.Y.U.
9. A Love Story
10. The Police
11. Down South
12. Summing Up
Recorded Live at The Shadows, Washington D.C., April 1965:
13. The Moose
14. Kidnapped
15. Unhappy Childhood
16. The Science Fiction Film
17. Eggs Benedict
18. Oral Contraception
19. European Trip
20. The Lost Generation
Disc 2
Recorded Live at Eugene's, San Francisco, August 1968:
21. The Vodka Ad
22. Vegas
23. Second Marriage
24. The Great Renaldo
25. Mechanical Objects
26. Questions and Answers
Bonus Material:
A Decade of Stand Up: Audio excerpts from Woody Allen: A Documentary
27. Mort Sahl – Changed the History of Comedy
28. The Rolls Royce of Management
29. Loyalty
30. The New Comic
31. The Village
Many Allen fans will be familar with this material. But hopefully it sparks interest other recordings surfacing. We may also see Allen back onstage to do stand-up one day (although, it's unlikely…)
We could not find any links to pre-order 'The Stand-Up Years: 1964 – 1968'. But we will post them as soon as we have them.