Our twice monthly round up of Woody Allen bits from around the web. Not a lot this time as there's plenty of main Allen news happening.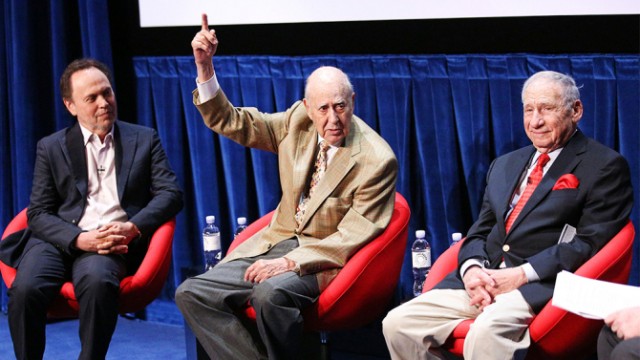 The Paley Center For Media (the centre that houses Men Of Crisis: The Harvey Wallinger Story) recently paid tribute to the recently departed Sid Caesar. Allen worked with Caesar in his early years. On stage was three comedy legends – Billy Crystal (who worked with Allen on Deconstructing Harry), Carl Reiner and Mel Brooks.
Variety has a nice right up, but Paley Center posted an interesting tweet, obviously an anecdote from someone present.
Woody Allen said working with Sid was still his best job credit. #PaleyLive

— Paley Center (@paleycenter) July 17, 2014
In related news, Reiner had nice things to say about Magic In the Moonlight.
I highly, highly, highly, highly recommend seeing WOODY ALLEN'S "MAGIC IN THE MOONLIGHT.

— carl reiner (@carlreiner) July 21, 2014
Diane Keaton has a new film out, directed by Carl's son Rob Reiner (who also appeared in Bullets Over Broadway) – it's called 'And So It Goes'. In a profile in the LA Times, she was naturally asked about Allen. She recalled her first impression.
I had a crush on him right from the beginning. He was perfect for me.
The whole interview is great and worth a read.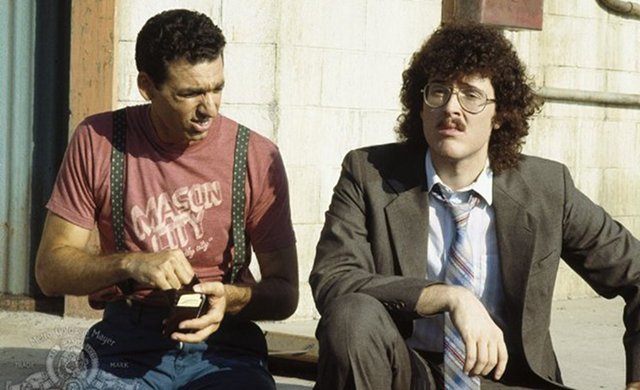 Weird Al Yankovic has been back in the press this week, releasing a series of amazing videos. In a new interview (excerpted by Death And Taxes) he reveals how his career was supposed to be more like Woody Allen's.
It was certainly a low point after my movie came out, after 'UHF' came out. I felt like it was a low point in my career only because I'd been built up so much for the movie. Orion Pictures was touting me as their new Woody Allen. They were saying this was the movie that was going to save their studio. It was going to be a big movie for the summer of 1989, and then it very quickly disappeared after the first weekend. The critics didn't like it. The audiences stayed away from the theater and that was not what we were expecting, so it took a couple of years for me to pick myself back up again and say, "Okay, I guess I'm not going to be a movie star, so let's do another album.
Allen has a new film out, and everyone has a list about his career.
Time Out New York has ranked all 43 Allen films. Last (43rd) comes Scoop. Annie Hall and Crimes And Misdemeanors take out 1 and 2. Check out their full list.
Indiewire looked at the 10 Best Male Characters in Allen's films. It's not an ordered list, but Sean Penn (Sweet And Lowdown) is an obvious choice. We were surprised by Alan Alda in Manhattan Murder Mystery.
Another Indiewire – 17 Best Filmmakers of 75. Allen leads the list that also features the likes of Ken Loach, Jean-Luc Godard and DA Pennebaker.
Esquire listed 5 Most Underrated Woody Allen films. The choice we most agree with is the underrated A Midsummer's Night Sex Comedy. Check out the other four.
You can now buy the iconic print of Woody Allen by Al Hirschfeld. The limited, numbered, hand signed lithographs will set you back $1500 US though. Get it on Etsy.
Fan art
street art
And nail salons inspired by Hannah And Her Sisters.