The first week of production is wrapping up on the 2015 film written and directed by Woody Allen. Today we gotten some of the best shots so far of out two stars – Joaquin Phoenix and Emma Stone.
Paps seem to have submitted their shots as some high quality ones of Phoenix and Stone have hit the net. BuzzSugar has a great selection, here's a couple below.
We've also seen some snippets of local area actors getting roles in the film. Gloucester Times reports Paula Plum is a playing president of a Rhode Island College (and has a scene with Phoenix). BroadwayWorld also mentions actress Lisa Yuen will appear in the upcoming film.
Professors and education seems to be a motif. We know the filming is moving to some sort of 'new location' after shooting in the bigger cities. Could it be one of the big universities such as Brown?
In the meantime, filming returned to Newport after travelling to Providence and Portsmouth earlier this week. The second day of Providence shooting was at the restaurant Loie Fuller on Westminster St. GoLocalProv got some pics of the crew and the trucks outside, but the shooting stayed inside the restaurant.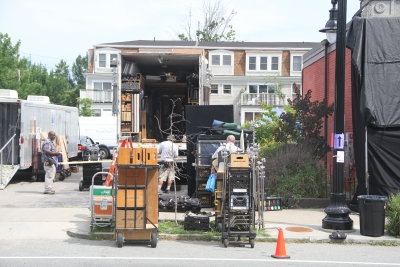 And they've returned to Newport at locations we haven't been able to work out. Anyone?
View from my porch: Woody Allen's new movie is filming next door #newport #RI pic.twitter.com/v20cbwAh0W

— Renee Hobbs (@reneehobbs) July 11, 2014
Woody Allen's movie shooting moved from right outside my office to my neighborhood. No perks just traffic detours. pic.twitter.com/vvFMFpJLMv

— Mark Whitcher, CEBS (@MarkWhitcher) July 11, 2014
We don't really know where the crew will turn up next, but as they just arrived back in Newport perhaps they will stay there for a bit.
Keep checking back here for all the latest news on the 2015 film!