The Golden Globes are over for another year. Here's the awards from the Woody Allen perspective.
Allen was given the highest honour by the Globes with the Cecil B DeMille Award. Despite speculation, Allen surprised no one by not attending. Diane Keaton accepted the award on his behalf, making a short speech paying tribute to his ability to write great women, and her 45 year strong friendship by singing the Girl Scout song 'Make New Friends'.
During her speech, the telecast cut to many actresses who appeared in Allen films including Julia Roberts (Everyone Says I Love You), Meryl Streep (Manhattan) and Diane Wiest (The Purple Rose Of Cairo, Hannah And Her Sisters, September, Radio Days, Bullets Over Broadway). The award was presented by Emma Stone, who stars in Allen's upcoming Magic In The Moonlight, and also featured a montage of Allen's films.
The montage ended with an Al Hirschfeld illustration of Allen which you can find here.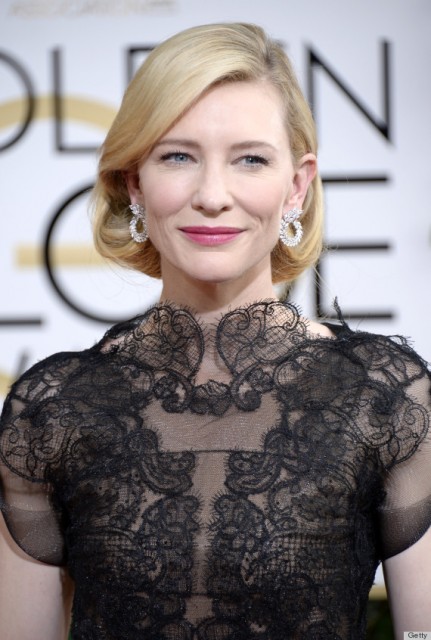 Later in the night, Cate Blanchett won the award for Best Performance By An Actress in a Motion Picture – Drama. She was the clear favourite and paid tribute to Allen in her speech.
Sally Hawkins, the other nominee from Blue Jasmine, lost out to Jennifer Lawrence for her performance in 'American Hustle'.
The only Allen alum to pick up an award was Leonardo DiCaprio (Celebrity), winning Best Performance By An Actor In A Motion Picture – Comedy Or Musical for 'The Wolf Of Wall Street'.
Hosts Tina Fey and Amy Poehler had a crack at Allen's expense in their opening segment. Referring to past Cecil B DeMille winner Martin Scorsese, they called it the award for 'tiniest man with the biggest glasses'.
Where was Woody Allen during all this? Turns out he was at the Carole King Beautiful musical in New York!
So, Woody Allen skipped the @goldenglobes to come to @BeautifulOnBway. #proudproducer #nyc #Broadway #wow

— Michael J Moritz Jr (@MichaelJMoritz) January 13, 2014