Our twice monthly round up of Woody Allen news bits from around the web.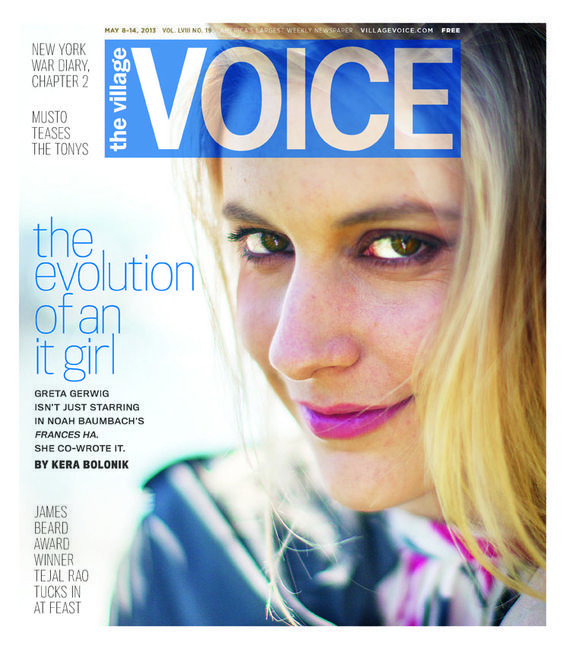 Greta Gerwig is on the cover of the new issue of The Village Voice. She is out promoting 'Frances Ha', directed by Noah Baumbach, and has plenty of Woody Allen overtones. Gerwig starred in To Rome With Love last year, and had plenty to say about Allen on the lengthy cover story.
"Woody Allen is the reason I wanted to live in New York City so badly," says Greta Gerwig, walking down Tenth Avenue in Chelsea on an April afternoon. Of course, Woody seduced a whole generation with his 1970s cinematic love letters to Manhattan. But that was a long time ago. He doesn't even shoot here anymore, and the New York he revered now seems as remote as Carrie Bradshaw's. So there's something sort of winsome about this fangirl confession from Gerwig, the 29-year-old star and co-writer—with her filmmaker boyfriend Noah Baumbach—of her own Woody-esque film, Frances Ha. And while it may sound odd for an actress to admit an obsession with Woody Allen these days, for Gerwig it makes perfect sense.
The whole interview is great and well worth checking out.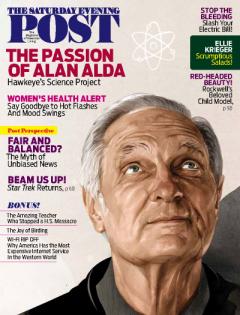 Alan Alda has appeared in three Woody Allen films, including the classic Crimes And Misdemeanors. Alda speaks about that film and Allen in the new issue of The Saturday Eveing Post.
Woody Allen is brilliant. I loved being in the pictures of his that I was in, and I think Crimes and Misdemeanors is one of the best American pictures ever made.
Another screen legend has also been talking about appearing in a Woody Allen classic. Max Von Sydow played the grumpy professor in Hannah And Her Sisters. Indiewire sat down with Sydow and asked him about Allen and that role.
I got the impression that when I first met him that he was a bit scared of the first day. He wasn't there. I hadn't met him before the production started. Went to say 'Good Morning' to the director and say how do you do and what are we going to do with this. So I saw him over there, in the back of the studio, and then he disappeared. So then he was over there, so I started walking, but he disappeared… Until he finally put up the camera and all the stuff that was needed for the first take, then he couldn't escape anymore, so we finally met, very close to the camera, and it was the beginning of a very nice period and I enjoyed very much playing in that film ['Hannah and Her Sisters']. I was sorry that it didn't take longer, but I am a great admirer of Woody Allen and I hope he will continue forever.
Comedian Marc Maron has been promoting his new (and wonderful) TV show 'Maron' and his new book 'Attempting Normal'. Maron stopped by the 404 Podcast over at Cnet and spoke about a bunch of topics, including Woody Allen, at around 13:08, starting with a discussion on Zelig, but also touches on Sweet And Lowdown and more.
Tim Robey, Film critic for the Telegraph in the UK, has been recommending films every week. This week he chose Another Woman, Allen's 1988 effort.
In barely 80 minutes, the portrait of Marion is surely the most complete Allen's movies have painted of anyone other than Woody Allen.
Robey's column is eclectic to say the least. Check it out at the Telegraph.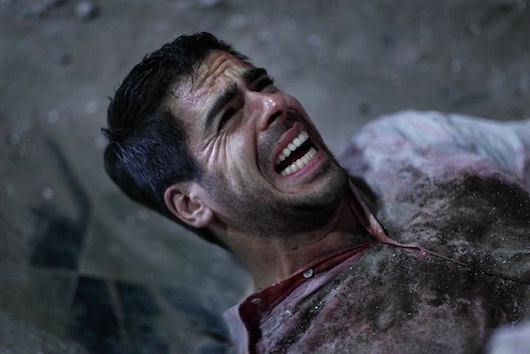 Horror actor/director Eli Roth also finds inspiration from Woody Allen. Speaking to The Credits, he talks about Allen's prolific schedule.
We saw that Woody Allen documentary where he's making two movies a year, and we're like, 'Okay. something's wrong with us. We're lazy. We're like, Shoot, shoot, shoot. Don't over think it. Write a script, go.' That's the speed we're moving at now.'
Roth is, of course, referring to Woody Allen A Documentary. Roth's new film is 'Aftershock'.
A new book by Mason Curey is 'Daily Rituals: How Artists Work', about the daily habits that surround the creative. Co.Create has covered the book and included one tidbit about Allen's cleanliness.
Woody Allen would give himself the chills so he wanted to take a hot shower. Some people get their best thinking done in the shower.
Their list also includes insights into other directors including Ingmar Bergman and David Lynch.
We know Woody Allen loves his fine dining. He has meals named after him, and in one restaurant, Spring, in Paris, he has his own table. But the myth of how that table came about is revealed by the chef/owner Daniel Rose this month in the Wall Street Journal.
This is a funny story. Somebody asked me if Woody Allen had come to the restaurant because they saw on the reservation list, "the Woody Allen table." When we opened the restaurant in 2010 he was filming "Midnight in Paris." They were filming, literally, 50 meters away.

We didn't see him. He never came to the restaurant, but I said, "Make a table for Woody Allen in case he calls in later." So we called it the "Woody Allen table." And it's saved for Woody Allen every single day. He's never been to the restaurant.

Somebody [in the press] called me and they're like, 'So, can you confirm that Woody Allen has been to the restaurant?' In my naive, stupid, faux-snob thing about "We don't talk about what celebrities come to the restaurant," I said, "We have lots of people who come to the restaurant, and some of them are famous and some of them are not." And they said, 'So, do you confirm that Woody Allen has been there?' And I said, 'I don't talk about who comes to the restaurant.' And of course they said: 'Woody Allen comes to the restaurant.' And then it was good for business. [laughs]
We're not sure we agree, but Flavorwire has compared some of Allen's classic leafing ladies with some of the more recent ones (some how comparing Mia Farrow in The Purple Rose of Cairo to Rachel McAdams in 'Midnight In Paris'). Take it as a silly list if you check it out.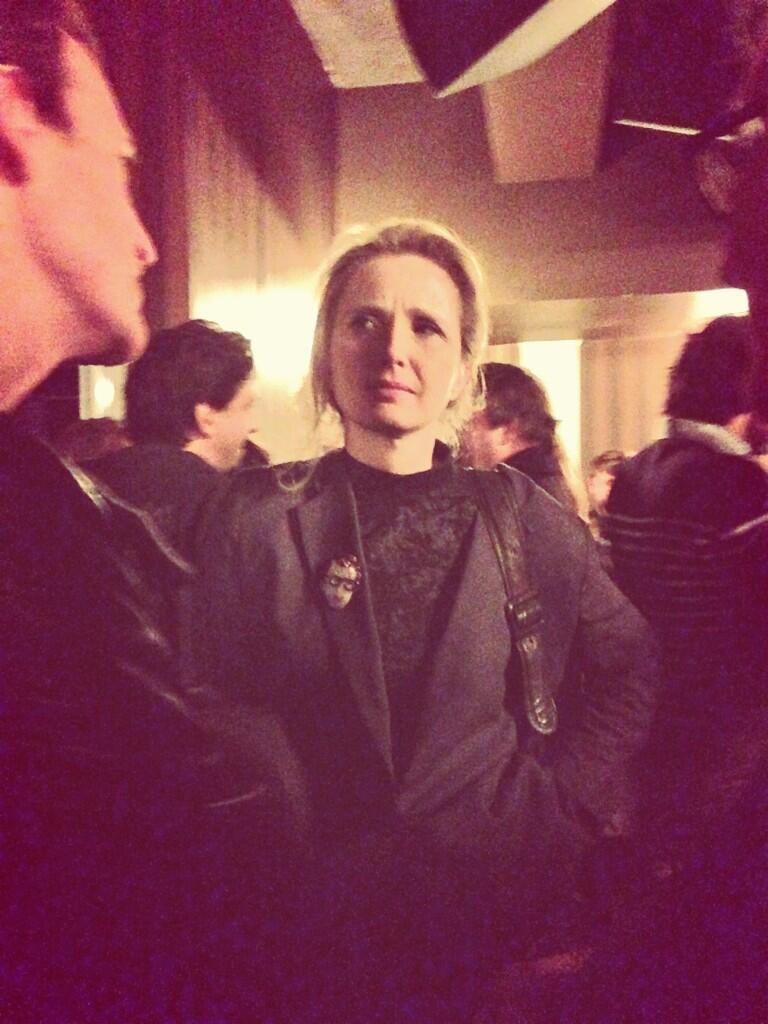 We just like this. Twitter user lolomacha met Julie Delpy, and she was out wearing a Woody Allen pin.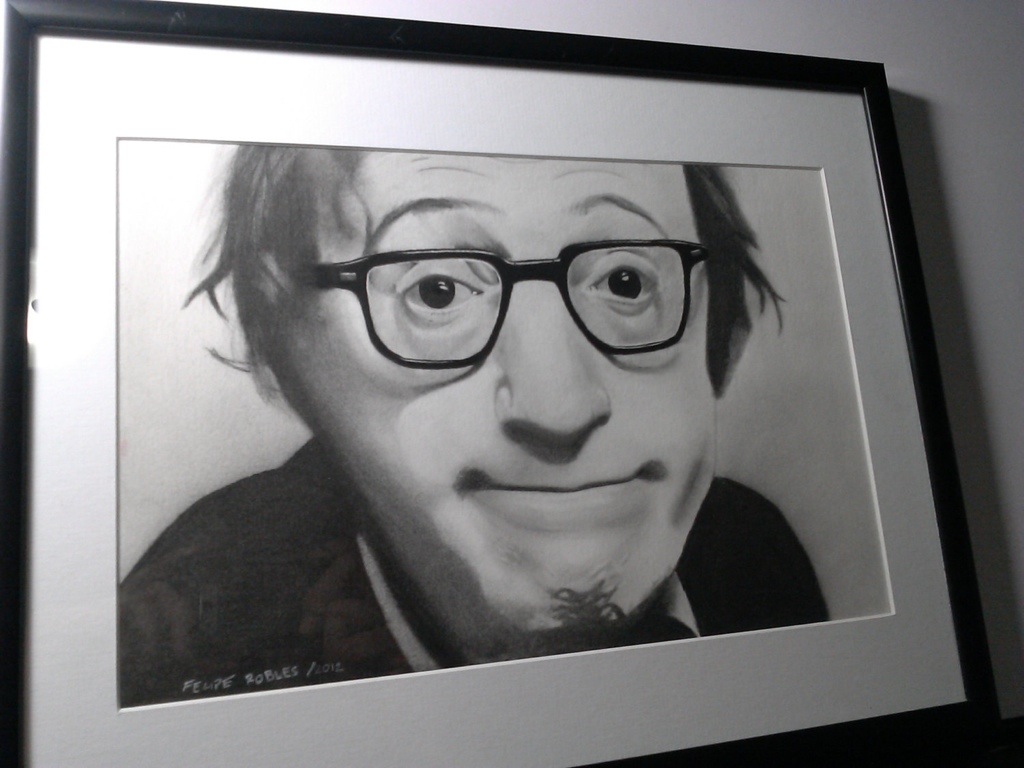 Etsy user GoodiesbyRobes has this print of Woody Allen for sale.
Finally, some humour.
Here's Woody Allen's take on 50 Shades Of Grey.
And the Onion had a crack at Allen's Internet skills this week. It's pretty funny, and we love some of the site ideas! But hey, if he did have a kick ass website, we wouldn't be here.