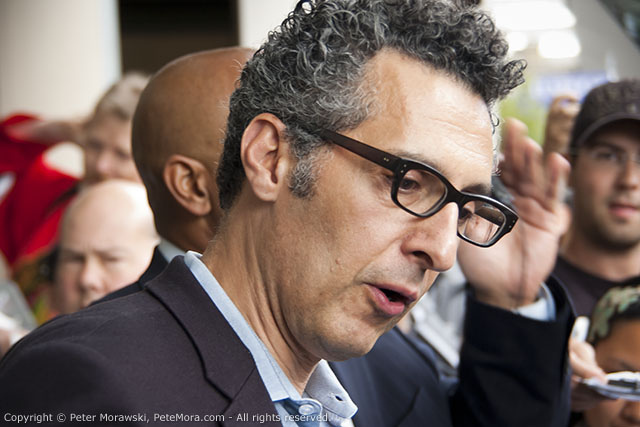 The Toronto International Film Festival (commonly called TIFF), is happening right now, and runs for another week. It's one of the world's biggest a best film festivals, where many films are bought and sold. One of those is writer, actor and director John Turturro, whose next film features Woody Allen.
John Turturro has been doing the rounds talking Fading Gigolo, his new project due to start filming in this fall. He's been talking to press as well, and revealing more about the ideas behind the film and how he managed to hire Woody Allen.
'Fading Gigolo' is a 'tender, sweet' comedy, Turturro told the L.A Times. Turturro plays the aging gigolo, and Allen plays his mentor and pimp. It marks another rare Allen acting role in a film he hasn't directed, but his role is more than just onscreen. Turturro has been sending drafts to Allen, who has been helping in the script's development.
How did Allen hear about the film? It turns out that Turturro and Allen share the same hairdresser – a man named Anthony. Turturro mentioned his idea to Anthony, who mentioned it to Allen. That connection also led to Woody Allen writing one of the one act plays Turturro directed on Broadway as part of Relatively Speaking in 2011. Turturro previously worked with Allen, having a part in Hannah And Her Sisters.
Turturro's pitch for 'Fading Gigolo' includes more than Woody Allen in it's list of cast and crew. He has been describing it as 'Midnight Cowboy' meets Broadway Danny Rose. Other actors signed on include Sharon Stone (Stardust Memories), Sofia Vergara and Vanessa Paradis.
The Hollywood Reporter managed to snag some video time with Turturro.
'Fading Gigolo' begins shooting in New York in mid October and is set to be in cinemas in 2013. With the new San Francisco film and the Bullets Over Broadway musical also set for 2013, it is set to be one of Allen's busiest years in decades.