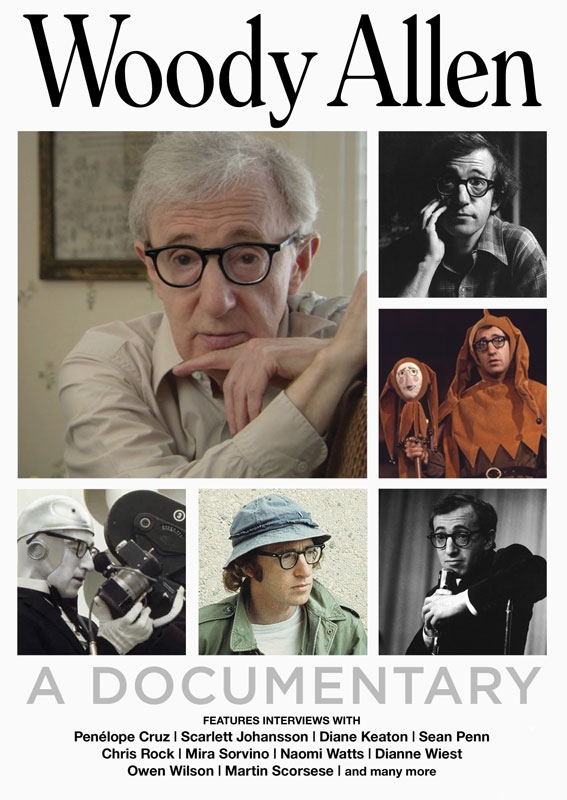 We have seen some great large, sprawling biographies of great musicans. Be it Scorcese's Bob Dylan documentary No Direction Home, Peter Bogdonavich's Tom Petty documentary Runnin' Down A Dream and of course, the Beatles Anthology. In film, there was the wonderful Monty Python documentary Almost The Truth. They are fan bait, taking the time to really explore a beloved subject.
Woody Allen: A Documentary feels closest to this model. Originally three and a half hours long and aired in two parts on the US network PBS, it really takes its time with its subject, allowing the material to breathe.
The first part covers Allens early career from teenaged joke writer, to TV personality to maker of funny films. It is a kick to see the faces of the people behind Woody Allen, and the roles they played. Jack Rollins and Charles H Joffe, his two managers who have been with him since day one. His sister, who helps Allen runs his business and his day. Best yet is Allen's own mother, from a candid interview with her son.
Even that running time leaves out major parts of Allen's story. His prose writing is never mentioned. His time on Broadway is mentioned barely in passing, as is his early marriage (although Allen himself is willing to comment on it). The film then spends plenty of time on his early comedies, and then onto his two big movies – Annie Hall and Manhattan.
The making of those films are given much care. As fans, this period is worth a three hour discussion in and of itself. Part one wraps up with Stardust Memories, and the cliffhanger of Allen's first critical failure.
Part Two opens with a skip in time to present day. Woody Allen has been making his European films – Match Point, Vicky Christina Barcelona, You Will Meet A Tall Dark Stranger and Midnight In Paris. Interviews with the principal cast of these films are one of the big delights of the film. Owen Wilson laughing at how distant Allen is. His hand written letter to Josh Brolin, which opens with "you might remember me…".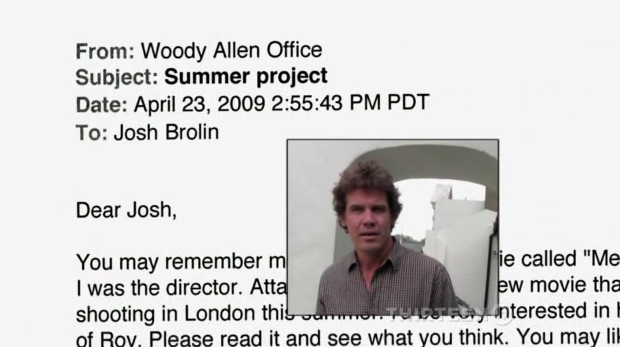 But the greatest part of this film is Allen himself. He has opened his doors, and goes as far as opening his bedroom drawer, full of yellow papers with scribbled ideas. Or the visit to his childhood home, or him stapling his type written drafts (and reveals to us that he is playing against type in Everyone Says I Love You).
True revelations are few. Snippets of Michael Keaton in the Jeff Daniels role in The Purple Rose of Cairo and the original cast of September are interesting, but not explored. The touchy Mia Farrow/Soon-Yi Previn saga is discussed, but mainly in a light way that offers no new insight.
The end of Part Two feels rushed. Allen's 80s period – his best run of films – don't get the same love as the early comedies. And suddenly we are at Match Point, then game. We would have loved to have seen what changed. Why the dip in quality? What was behind this era?
But it's not about what's missing, but what's here. And at three and a half hours, there's certainly a lot. There's no shortage of celebrity power and plenty of fun moments. Allen's own films have been spliced in as commentary, along with stock footage that parallels a good yarn (Errol Morris style). Best of all, for three hours of talking heads, what we see on screen is active and engaging.
Woody Allen: A Documentary is a great ride, and great retelling of his life story. We just kind of wish there was some sort of 8 hour director's cut.