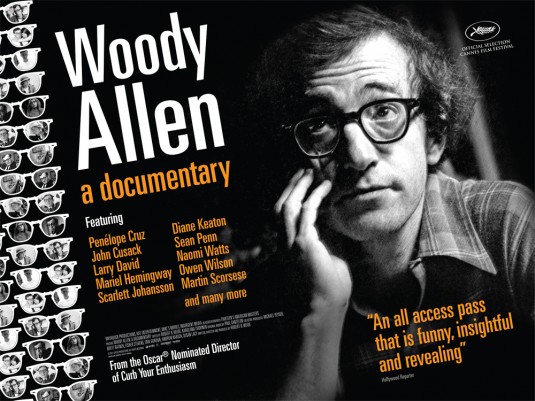 Woody Allen: A Documentary is being released in cinemas internationally this week. The 3 and 1/2 hour documentary was directed by Robert B. Weide (Curb Your Enthusiasm) and originally aired on PBS in the US in November 2011. The international theatrical version is a new and more concise cut.
In the UK, Ireland and Norway, the film is released on June 8th. For London fans, the full version of the documentary is being shown at the Curzon, along with a Q&A with the director.
In Australia, the film is showing as part of the Sydney Film Festival, on 6th and 11th June.
The documentary is excellent, covering Allen's early days up to and including Midnight In Paris. Even the long cut can't cover all 40+ of Allen's films, but there are many highlights. We get to see Woody Allen's scraps of ideas in his own bedroom, and Diane Keaton talking honestly and affectionately about her old friend.
Check out the original PBS trailer below. The full version is already available on DVD in the US.