A new compilation of Woody Allen's 60s stand-up albums is out now in the US. Called The Stand-up Years 1964-1968, it features a number of bonus interviews conducted by Robert Weide in 2011, for his film Woody Allen: A Documentary. Much of that bonus material has appeared online as clips to help promote the new collection. For your listening please, we've collected them all here.
(Yes, not technically videos, but they are YouTube links…)
Mort Sahl – Changed the History of Comedy
The Rolls Royce of Management
The New Comic
The Village
Also coinciding with the release is a new article in the New York Times, profiling Allen's years as a Stand-Up, and NYT's own coverage of Allen in the early 60s. They also unearthed the cool old poster below. And it seems Allen's miraculous joke-writing talent was on show for everyone to see from the beginning.
"A colleague of that period still considers Allen's performance with awe," Joanne Stang wrote. " 'He would come in from Brooklyn every afternoon, sit down at the typewriter, and in three hours turn out 30 or 40 absolutely marvelous jokes, then pick up his schoolbooks and go home again.' "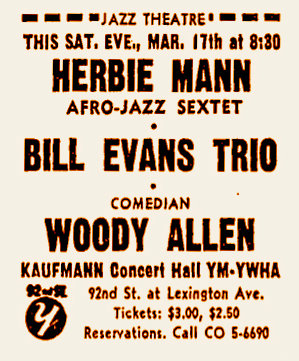 'The Stand-Up Years 1964-1968' is out now.