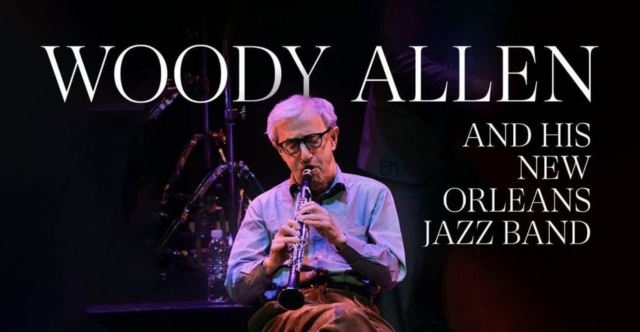 Woody Allen's jazz band is hitting the road this September. It's their first ever performances since the COVID pandemic hit. Tour dates have already been announced for Spain, Portugal others. Now new dates have been announced for Paris and Rome.
16 September 2023 – Rome
The Rome date is part of the Villa Ada Festival. Tickets are available here.
21 September 2023 – Paris
Allen and the band perform at Le Grand Rex, a venue they have played before. Tickets are available here.
These are in addition to the previously announced tour dates. There may be more dates to come. Best way to get up to date news is to follow @woodyallenjazzband on Instagram.
During COVID, the band's long time bandleader Eddy Davis passed away, and the future of the band was in question. But the band has gone through many lineup changes before. The latest group includes original members since 1996 – Conal Fowkes (piano), Simon Wettenhall (trumpet) and Jerry Zigmont (trombone) – and new members Josh Dunn (banjo) and Brian Nalepka (bass). Kevin Dorn returns on drums, having played with the band in the late 90s.
The tour dates coincide with the release of Woody Allen's 50th film, Coup de Chance, in Europe. So there will be lots of activity later this year.
More news as it comes.