After a couple of quiet years it seems like news is starting to pick up again for Woody Allen. On the back of the release of Rifkin's Festival in major film markets like Brazil, Argentina and the US, Allen's last film A Rainy Day In New York has secured a release in China. It will hit cinemas on 25 February 2022.
A Rainy Day In New York hit cinemas in Europe first in 2019, and has been slowly rolling out around the world. The China release was reported to be in work when the film was up for worldwide distribution sale. It was reported in April 2021 that a deal with a distributor was done. Now that the cinema industry is climbing back, the release date has finally been revealed.
China is a huge market for cinemas, and they don't release many American films. Allen has had films play at Chinese film festivals but this is the first time he has secured a proper theatrical release. A Rainy Day In New York played the Beijing Film Festival in August last year.
How well will it do? The film features some big stars and the New York looks gorgeous. It could do quite well. Or it might not. It already topped the global box office thanks to one Asian country.
Here's the poster. We'll post the Chinese trailer when we can find it.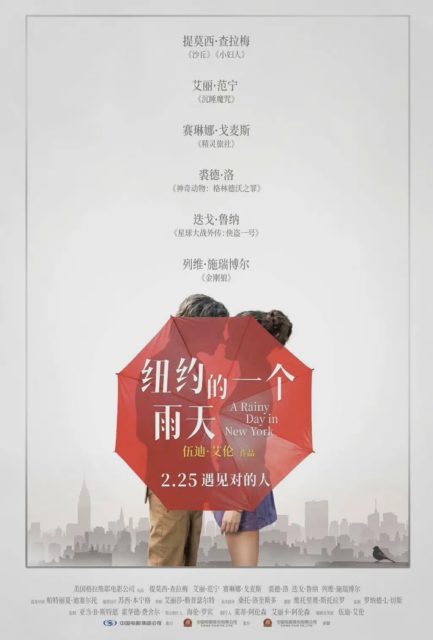 Let's hope the film does well, and Rifkin's Festival will follow.