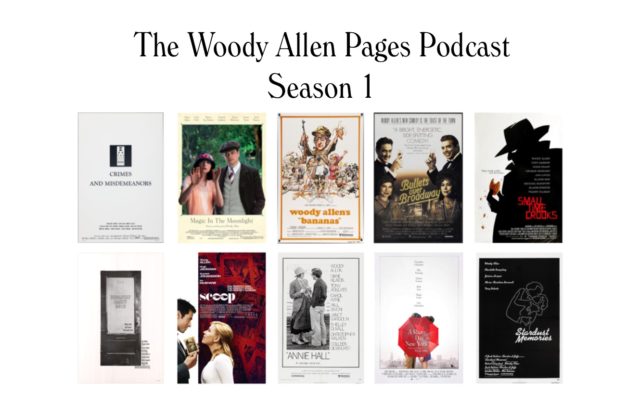 We are ten episodes into our very first season of The Woody Allen Pages Podcast. It's taken a lot of work to get to this point – and there's a couple of bonus episodes to come to wrap up the first bunch of shows. But we've covered the first ten films and would love to know more about what you think!
We're going to release a special Q&A episode and as a part of that and we want to know what you think of the films. What do you think of the ten films we've covered – from Crimes And Misdemeanors to Stardust Memories? Let us know in the poll below.
Do you have any questions? About the podcast or Woody Allen in general. The podcast are little audio documentaries – so it lacks that conversation. But I'd love to know what you think – especially where you disagree with me. Email us, or leave a comment below.
Finally, if you've not been listening – go check out the podcast. And support us on Patreon!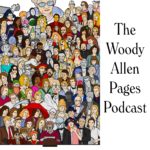 Episode 1 - Crimes And Misdemeanors (1989)

May 23, 2021 • 32:14

Crimes And Misdemeanors is the 18th film written and directed by Woody Allen, first released in 1989. It's two stories in one. The first is the trials of Judah, an eye doctor whose mistress is threatening to destroy his life, and the terrible choices he makes. The second is the…

Episode 2 - Magic In The Moonlight (2014)

May 30, 2021 • 38:07

Magic In The Moonlight is the 44th film written and directed by Woody Allen, first released in 2014. It's the 1920s and magician Stanley Crawford is asked by an old friend to help with a task. A rich family in the south of France is being swindled by a young…

Episode 3 - Bananas (1971)

Jun 6, 2021 • 31:19

Bananas is the 2nd film written and directed by Woody Allen, first released in 1971. Woody Allen plays Fielding Mellish, who is really just Woody Allen's stock persona in the 70s – a cynical, smart-assed, New York guy. To impress a girl, he gets caught up in a revolution, and…

Episode 4 - Bullets Over Broadway (1994)

Jun 13, 2021 • 36:07

Bullets Over Broadway is the 23rd film written and directed by Woody Allen, first released in 1994. JOHN CUSACK stars as David Shayne, a struggling playwright who agrees to take some mob money to put on his latest play. The catch – he has to cast a mobster's girl, and…

Episode 5 - Small Time Crooks (2000)

Jun 20, 2021 • 31:57

Small Time Crooks is the 30th film written and directed by Woody Allen, first released in 2000. Woody Allen stars as Ray, a small time crook with a big time plan to rob a bank, digging through from the shop next door. His wife Frenchy, played by TRACEY ULLMAN, sells…

Episode 6 - Broadway Danny Rose (1984)

Jun 27, 2021 • 31:19

Broadway Danny Rose is the 12th film written and directed by Woody Allen. A love letter to his comic roots, BROADWAY DANNY ROSE marks the time when Allen managed to synthesise his European influences with his American humour into something all his own. It's a small story – and a…

Episode 7 - Scoop (2006)

Jul 4, 2021 • 27:15

Scoop is the 36th film written and directed by Woody Allen. Woody Allen stars as Sid Waterman, also known as The Great Splendini. An American magician on tour in London, he meets a young journalism student named Sondra Pransky, played by SCARLETT JOHANSSON, and becomes involved in a dead journalist's…

Episode 8 - Annie Hall (1977)

Jul 11, 2021 • 37:03

ANNIE HALL is the 6th film written and directed by Woody Allen, first released in 1977. Woody Allen stars as Alvy Singer. He has broken up with Annie, played by DIANE KEATON, and he's looking back on his whole life to see if he can figure out how he got…

Episode 9 - A Rainy Day In New York (2019)

Jul 18, 2021 • 29:17

A Rainy Day In New York is the 48th film written and directed by Woody Allen, first released in 2019. TIMOTHÉE CHALAMET stars as Gatsby Welles, a college student who takes his girlfriend Ashleigh Enright, played by ELLE FANNING, to New York for a day trip. They hit the big…

Episode 0 - The Woody Allen Pages Podcast Introduction

May 11, 2021 • 4:13

Hello, welcome to the standard introductory episode of the Woody Allen Pages podcast. So much more at our website – Woody Allen Pages. Find us at: Facebook Instagram Twitter Reddit Support us Patreon Buy a poster or t-shirt at Redbubble Buy out books – The Woody Allen Film Guides Buy…
Subscribe: Apple Podcasts | Google Podcasts | Spotify | Stitcher