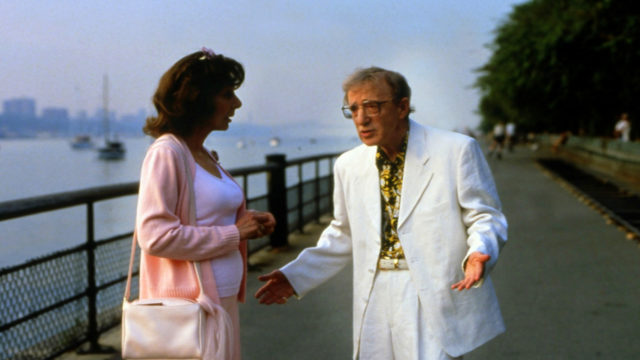 Small Time Crooks features one of Woody Allen's great locations. One that should be on every great Woody Allen location guide – the cookie shop. It's actually rare for Allen to take over such a public location for public filming.
Otherwise, Small Time Crooks is an interesting mix of two New York's – the schlubby locations of the criminal crew with Chinatown and bodegas. Then the upper class living they find themselves in, and the exclusive tourist attractions they travel in. The film is almost two films, and similarly the types of locations are split in two. Of course, they are all in New York, in this period where Allen was very entrenched in his home town.
A lot of the film is shot in interiors. We know that the basement of the cookie shop was a set, and we suspect some of the glamorous homes are also a set. Allen didn't film at his studio of choice (Kaufman Astoria in Queens) so it makes several of those locations a mystery.
But here's what we do know. Here are the filming locations to Small Time Crooks.
Bank
503 West 145th St
Still a real bank, it is a few shops down from the cookie shop we will see later. We assume Allen is across the road but it's not clear and could have been filmed elsewhere. Of course, we see this location several times.
Candy shop
204 East 86th Street
We have some location info about this corner, although it now looks completely different now. That row of shops is long gone.
Real estate agent
316 East 83rd Street
Nom Wah Tea Parlor
13 Doyers St, New York
Allen has used this street many times, most prominently in Alice. We will see more of this street when Ray visits the forger.
Washington Jefferson Hotel
318 W 51st Street, Manhattan
We see the outside, and we assume the inside matches.
Cortlandt Alley, Chinatown
The Cookie Shop
501 West 145th Street
This cookie shop. We see it inside and out. One of the great Woody Allen film locations.
Frenchy's rich home
1169 Park Avenue
We see the outside a couple of times. The inside, we suspect, is a set.
David's home
43 Fifth Avenue
We assume the interior matches on this one.
Metropolitan Museum of Art
1000 5th Avenue
They are in room 607. Allen has used this location many times, in films like Manhattan, Everyone Says I Love You, A Rainy Day In New York and more.
23 Washington Square North
David takes Ray and Frenchy to where Henry James, the author, lived. Kind of. James' grandmother lived here, at 18 Washington Square North. We are actually looking at #23 (the James home was demolished anyway).
Sotherby's Auction House
1334 York Ave, New York.
Ruby Foo's
2182 Broadway
Ray is walking towards 77th street when he stops. Restaurant has now gone.
Riverbank State Park.
Ray and May go for a walk. The George Washington Bridge is behind them.
Shea Stadium
41 Seaver Way, Queens
Now replaced by Citi Field.
NY Waterway Ferry
We get a scene of Ray and May in on the ferry on the Hudson River.
31 East 63rd Street
Chi Chi Potter's house. We assume there interiors match. We also see Ray looking from across the road near number 18 E 63rd Street. They also walk along to numbers 12 and 10, East 63rd St.
Church of Santa Maria del Rosario
Fondamenta Zattere Ai Gesuati, Venice, Italy
This small establishing shot of the church in Venice. We imagine that this was footage Allen and his team shot for Everyone Says I Love You, which was partly set in Venice.
Church of St Mary The Virgin
145 West 46th St
The inside of the Venetian church is, of course, really one in New York.
Unknown locations. Can you help us find them?
Unknown Filming Location for Small Time Crooks. Ornate lobby doors in New York midtown somewhere. Sunset Farms sign is a fake, of course. Anyone recognise it? pic.twitter.com/1YiznGaJOq

— Woody Allen Pages (@WoodyAllenPages) December 15, 2020
Unknown filming location for Small Time Crooks. A piano recital at a small theater. The lobby is red and the restaurant has stained glass windows. Anyone know it? pic.twitter.com/mbQwZEfbdE

— Woody Allen Pages (@WoodyAllenPages) December 15, 2020
Here's the map of every Woody Allen location from Small Time Crooks (2000) to Cafe Society (2016). We will go back to some of the more recent films next.