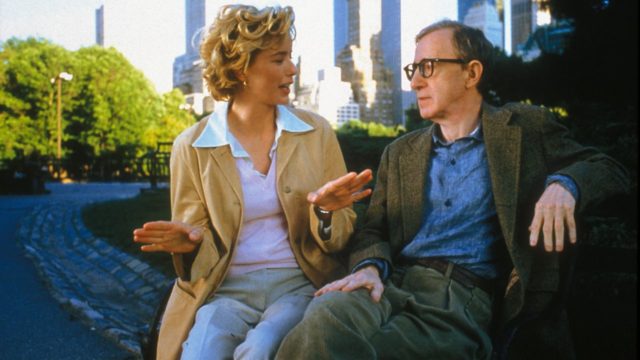 Hollywood Ending, despite the title, sees Allen remain faithful to New York City. The film spends a lot of the time inside a film studio. We suspect some of the offices and apartments are also sets created for the film. But there's still a mix of gorgeous outdoor locations in Central Park, glamorous hotels and high end restaurants to make it feel like the fantasy of Manhattan that Allen usually creates.
Some places we don't know. Notably, Hal's home is a house in Long Island, not Beverly Hills. The production team brought in palm trees to make it look like the west coast.
Thanks to @MHToons on Twitter!
Here's the filming locations for Hollywood Ending. Find our work in progress of all Woody Allen filming locations here.
Kaufman Astoria Studios
34 36th St, Astoria, New York
A lot of the film was created in the studio. This includes the scenes in 'Canada' and, of course, all the various filming scenes.
Val's home
445 West 21st Street
Seen many times in the film. We assume the interiors match the exterior. We see the outdoor garden.
JFK Airport
Queens, NY
There's a couple of airport scenes. We assume it's JFK Airport, as it looks like a big consumer airport.
The Plaza Hotel
750 Fifth Avenue, New York
We see this hotel a couple of times. One time we see Val walking down Grand Army Plaza.
Bemelmans Bar
35 E 76th Street
Starrett-Lehigh Building
601 W 26th Street
A La Vieille Russie
781 5th Avenue
Ellie is crossing Fifth Avenue, going east to west, at the intersection of 59th Street.
Bethesda Fountain
Central Park
Balthazar Restaurant
80 Spring Street
St Paul's House
335 W 51st Street
A scene of outside filming features this building redressed as a night club.
Corner 12th Avenue and West 135th Street
Filming under this overpass.
Wollman Rink, Central Park
Ellie and Val are just north of Wollman Rink when he gets his sight back.
Loews Theatre
17 Route 1, New Brunswick, New Jersey
Unknown filming locations for Hollywood Ending. Do you know them?
Unknown filming location from HOLLYWOOD ENDING – can you help us find it? The outside of a theatre/rehearsal space in New York, probably Chelsea area. pic.twitter.com/p5EizM3abN

— Woody Allen Pages (@WoodyAllenPages) February 21, 2020
Unknown filming location from HOLLYWOOD ENDING – can you help us find it? It's a house on Long Island, with some palm trees added by the production team. pic.twitter.com/1yCAQK0RP7

— Woody Allen Pages (@WoodyAllenPages) February 21, 2020