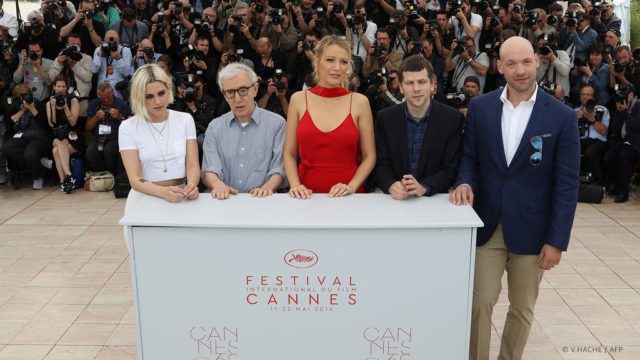 It's all happening in Cannes, as the 69th Cannes Film Festival has kicked off. Having scored the prestigious opening night film, Café Society is the first film to get the traditional Cannes photocall treatment. We now have the first pics, and we've learnt that Blake Lively is quite tall.
Images come from Cannes Film Festival's Facebook page and Mars Film's Facebook page. Allen was joined by Jesse Eisenberg, Lively, Kristen Stewart and Corey Stoll. There was discussion about Steve Carell, but he's had a death in the family.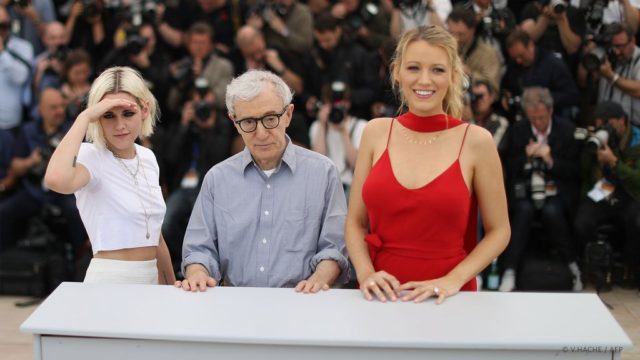 Stewart and Lively, surrounding a guy with a look of "I wish I was on my apartment – alone."
Not sure what is happening in the photo below.
#Cannes2016 Day 1: Kristen Stewart & @blakelively at the "Cafe Society" press call | Photo by @MichaelABuckner pic.twitter.com/8NltFxobJ3

— Variety (@Variety) May 11, 2016
Next up is press conferences and interviews, before the red carpet premiere, where everyone will wear something different. Maybe even Allen will get changed. Who knows.
The 69th Cannes Film Festival is on right now. We're retweeting the best stuff on our Twitter. We'll do more wrap ups as the day progresses.