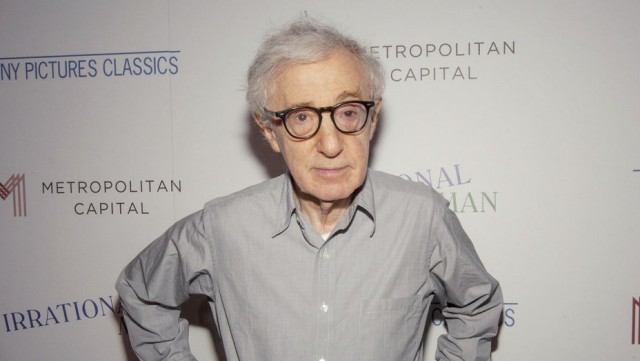 Woody Allen's upcoming, 2016 Film has been acquired by Amazon. This comes as Allen begins production for a 2016 Amazon Series. Amazon has acquired theatrical and streaming rights, which will see the film get a traditional theatrical release.
Here's the press release from Amazon
Woody Allen's Upcoming Untitled Film Acquired by Amazon Studios
The romantic comedy, starring Jeannie Berlin, Steve Carell, Jesse Eisenberg, Blake Lively, Parker Posey, Kristen Stewart, Corey Stoll and Ken Stott, will be released theatrically this summer

SEATTLE–(BUSINESS WIRE)–Feb. 18, 2016– (NASDAQ:AMZN) — Woody Allen's latest as yet untitled feature film has been acquired for all North American rights, including theatrical and streaming, by Amazon Studios. The film, shot last summer on location in New York and Los Angeles, is a romantic comedy staged in the 1930s and stars Jeannie Berlin, Steve Carell, Jesse Eisenberg, Blake Lively, Parker Posey, Kristen Stewart, Corey Stoll, and Ken Stott.

Amazon will open the film this summer with a traditional, nationwide theatrical release. Following its theatrical run, it will become available exclusively to Prime members through Prime Video.

"Like all beginning relationships, there is much hope, mutual affection, and genuine goodwill — the lawsuits come later," said Allen.

"Woody Allen is a brilliant filmmaker," said Roy Price, Head of Amazon Studios. "We're so proud to be in business with him for both his next film and his first ever TV series."

Allen is also writing and directing an untitled six-episode television series for Amazon starring himself, Elaine May, and Miley Cyrus. It is executive produced by Erika Aronson, produced by Helen Robin, and begins shooting next month.

Producers of the new film include Allen's longtime collaborator, Letty Aronson, as well as Steve Tenenbaum and Edward Walson. Executive producers are Ronald L. Chez, Adam B. Stern, and Marc I. Stern. The deal was negotiated by John Burnham and Jessica Lacy of ICM Partners and Erika Aronson of Taborlake on behalf of the filmmakers.
More info also at the Hollywood Reporter.
What does this mean?
The film is getting a 'normal' cinematic release. So we will still expect to see it fight it out at regular box offices, and be treated like a regular film, be eligible for awards and more.
However, after a three month period, it will go straight onto Amazon's Prime service – faster than theatrical films can get onto a streaming service.
Amazon recently made a splash at Sundance, buying prestigious films left, right and centre. The new Allen film adds to their considerable repertoire. This falls out of Amazon Studios, who have been creating their own (quite amazing) shows like Mozart In the Jungle and Transparent.
What don't we know?
How will this affect the film internationally? Amazon's Prime service is still chasing Netflix when it comes to international footprint. But for big markets like UK and France – will Amazon be taking over the streaming rights?
Still no film title, although we have 'romantic comedy' as a genre from a source that would know. and at least the cast is intact.
No release date, other than the traditional summer window.
Is this a one off deal? Allen usually likes multi picture deals.
What now?
This deal is actually not as groundbreaking as it might seem. The industry is moving this way – it's more that famously habit driven Allen making changes is always interesting. No doubt Sony Pictures Classics will be disappointed. But the film will come out, and then head to streaming. All very normal.
We'll be keeping you up to date with all the 2016 film news.