News Bits! Our twice monthly round up of Woody Allen bits from around the web. This is the 83rd edition! And a brief one for the end of the year. Happy new year everyone!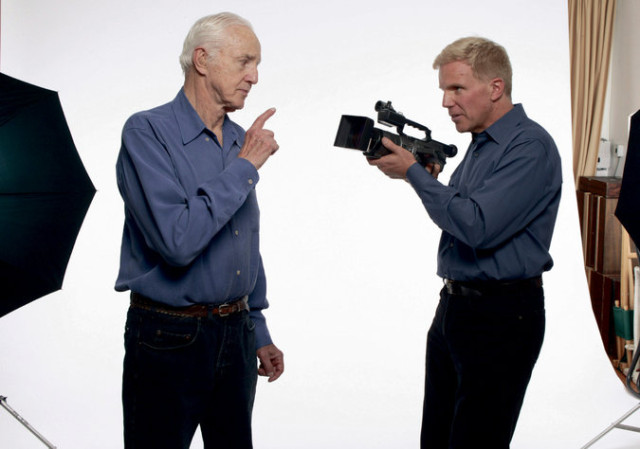 Haskell Wexler has passed away. The legendary cinematographer lens such greats as 'Who's Afraid of Virginia Woolf?' and 'Days Of Heaven'.
Wexler worked once with Allen, and it didn't end well. They teamed up for Allen's 2002 film Hollywood Ending, which was plagued by production troubles. Wexler was fired after a week, replaced by Wedigo von Schultzendorff, a cinematographer who had never before or since worked on an English language film.
A full obit is in the New York Times. He was 93.
Charlotte Rampling continues to promote her film '45 Years' which has been earning acclaim everywhere. In a chat with Metro in the US, she talked about working with Allen in Stardust Memories.
Woody Allen is also known for not doing a ton of takes, and sometimes leaving his actors wondering if they're even doing a good job. What were your experiences like with him on 1980s' "Stardust Memories"?

I think mine was particular. He was in a particular stage in his life, and he was really quite happy, so we had a really good relationship. He was in between relationships, so he was in a really good mood. Obviously that's changed. But that was a really good time for him.
New York Daily News occasionally looks back at classic articles. This past week they chose their coverage of Allen's marriage to Soon-Yi Previn. The couple married in Venice in 1997.
Massimo Cacciari, the mayor of Venice, officiated at the ceremony in a private location in the romantic, canal-laced city where the two return every Christmas.

The couple's closest friends and members of Allen's family, who had been sworn to secrecy in recent weeks, attended the nuptials. The loyal group managed to elude even the most ravenous of Italy's paparazzi.
Allen used Venice as a location for Everyone Says I Love You.
The Examiner revisited Manhattan, calling it a classic.
The cast is excellent. Woody Allen is very good as Isaac, who hates his job as a television writer. Mariel Hemingway is equally strong as Tracy, who loves him and wants her to take him more seriously. Her performance earned an Academy Award nomination.

"Manhattan" is for New Yorkers and all those who can appreciate the majesty of the city and its dwellers.
Our final Fan Art corner of the year!
Cuadrito de Woody Allen para @surlemurtienda pic.twitter.com/ILHnLTbrm9

— Esteban Serrano (@Cienperros) December 18, 2015
Drew Woody Allen today. He's my favorite Flash next to Wally West. pic.twitter.com/t1jCQ8aPnu

— Viktor Tejada (@shutupviktor) December 20, 2015
¿Conoces a un fanático de Woody Allen? Este puede ser tu regalo ideal para el Día de Reyes. ¡No dudes en comprarlo! pic.twitter.com/p57Vi6Wl3i

— Silvia Bleu (@Silvia_Bleu) December 30, 2015