Not much to report on the 2016 Film written and directed by Woody Allen. We are wrapping up a couple of bits and pieces.
Firstly, social media snappers managed to get some shots of cool looking vintage cars used on the shoot in Inwood.
Another pic from Woody ALlen set from today. pic.twitter.com/7dRfVYHCIe

— Starbucksaddict (@DogbluffGirl) October 2, 2015
The big public shoot this week was in Chelsea, on 23rd St between 7th and 8th Avenues. Not many pictures came out of it, just a couple of blurry shots of Woody Allen.
Two more cast members have turned up on the IMDB page. Lev Gorn is playing the wonderfully named Eddie Diamondstein. Whereas Vivian Kalinov is simply 'Stunning Woman'. Kalinov appears to have been in Celebrity, as an extra.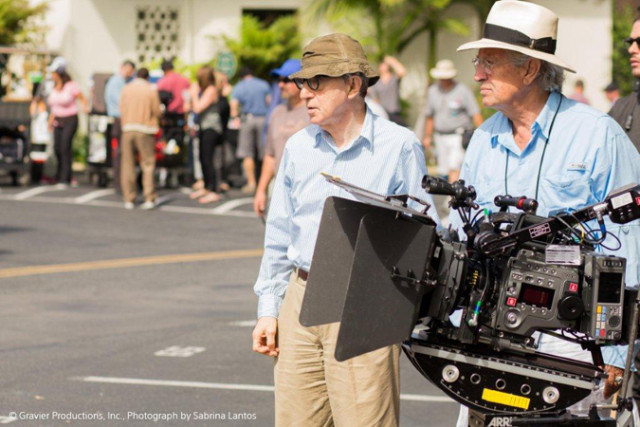 Finally, an article has emerged with some comments by Vittorio Storaro about the camera he is using. It is Allen's first time shooting digitally, with a new Sony F65 CineAlta. It shoots in 4K which is not something we thought we'd ever say about a Woody Allen film. What next, IMAX? Anyway, the article features our first official photo, of Allen with Storaro. It looks like it was taken in LA.
Very little to report otherwise. Filming was due to wrap up mid October, and we assume production is drawing to a close, this week or the next. Allen's film shoots usually finish with a whimper – this could well be the last 2016 Film production update. It will be disappointing as many of the stars were never spotted!