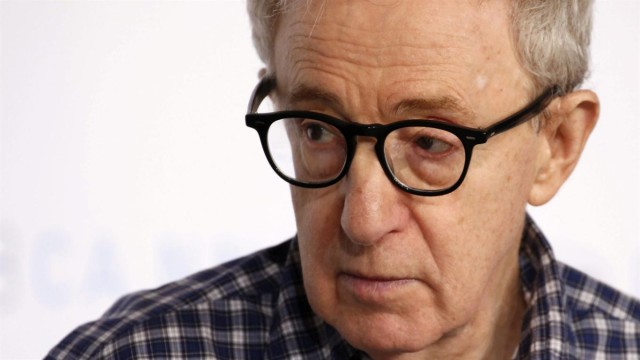 A new interview with Woody Allen has been published in Argentinian magazine La Nacion. The interview is to coincide with the release of Irrational Man there. However, Allen makes a number of new points about his upcoming projects that worth highlighting.
(Quotes were pushed through good old Google Translate)
On choosing the leads for 'Irrational Man'.
My casting director Juliet Taylor, read the script and two days later she brought me a list of 5, 10 or 20 actors for each role. She says, "The protagonist could be Joaquin Phoenix". I have no idea who he is, so I she brings me videos of Paul Thomas Anderson, I see them and then I approve or reject. In this case, I liked it. And when I get along with someone I often repeat, as with Scarlett Johansson and now with Emma Stone, who is like a new Diane Keaton with the characteristics of a classic star. Sometimes I write the script with the actor or actress already in mind, which is best, but it rarely occurs.
Interesting that Allen had not heard of Phoenix prior to the film. Interesting to find out who Allen might have had in mind, although we know he considered Alec Baldwin for the role.
On using digital cameras for the first time in his upcoming 2016 Film.
I'm a dinosaur. I don't change easily. I use the same typewriter my entire life to write my scripts. But the director of photography on my new film, the Italian Vittorio Storaro, convinced me. The time has come, there's no sense in resisting, you can not go against the future, which actually is already present. While leaving the Moviola I accepted and edited in the computer, which allowed me to assemble a movie in just 6 or 7 days. I also realized that digital projection is very cute, almost like 35mm. But I never filmed in digital. Next time I'll tell how I was with Jesse Eisenberg and Kristen Stewart.
Allen has been asked about digital filming for years. Looks like Allen's finally succumbed, although let's see if he goes back to traditional film with a different cinematographer.
Finally, some words about new services.
I will not stop until my health or otherwise people stop giving me money to film. And if there are no producers in film, I can ask for more money from Amazon. Or Netflix. (Laughs).
This feels like a big change of heart. Having been so against streaming services and television, for Allen to consider, even jokingly, that his career might end up there, is a big change for him. Of course, he has his upcoming 2016 Amazon Series. Perhaps there could be more, and perhaps he could make films for these services, especially as Netflix is starting to make interesting deals with cinemas.
More over at La Nacion, where there's more good bits.
'Irrational Man' just opened in Argentina, as it continues to roll out around the world.