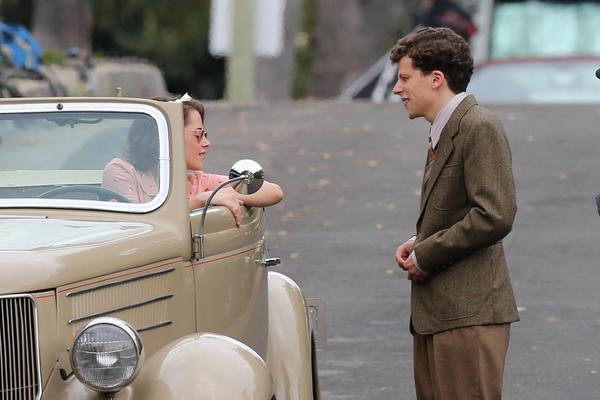 Second week of principal production on Woody Allen's 2016 Film, and so far it has been dramatic. But the work continues and we have lots of photos of a new scene involving Jesse Eisenberg and Kristen Stewart seeing a film. There's also a new cast member added to IMDB.
In the last few days, Eisenberg and Stewart have been filming around Los Angeles. Still, no other cast members have been spotted except Paul Schneider. We did finally spot Vittorio Storaro, the cinematographer who is working with Allen for the first time.
Oscar winning cinematographer Vittorio Storaro working on Woody Allen project. pic.twitter.com/cUWJa4px7T

— Pamela Chelin (@PamelaChelin) August 26, 2015
Eisenberg and Stewart once again made use of that vintage car.
Locations include the famous Chinese Theatre.
Looks like we were right – it was Woody Allen at the Chinese Theater https://t.co/pWaF7q5csY

— olv (@olv) August 26, 2015
Then the production was at Los Feliz, in particular at the Vista Theatre. They watched the film 'The Woman In Red', which places the film definitively in 1935.
On the IMDB side, a new actor has been added to the film. Anthony DiMaria is playing 'Howard'. He's appeared in many great TV series like 'The Leftovers' and 'Ray Donovan'. There's a lot of speculation as to who will take Bruce Willis' departed role, which will have to be filled quickly. DiMaria's quick casting is certainly interesting.
That all said, Allen was spotted having dinner Arnold Schwarzenegger. It could be coincidence, but it seems unlikely the sudden departure of his 'Expendables' co-star didn't come up as a topic! More at TMZ.