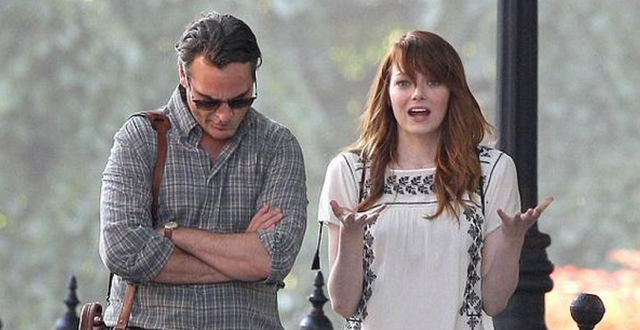 Irrational Man is the 2015 film written and directed by Woody Allen, starring Joaquin Phoenix and Emma Stone. It will be first released in the US in July 2015. With almost five months to go, we still have very little details. What we do have in this update is confirmation on a couple of international distributors, a proposed cast list, as well as a name for Phoenix's character.
French distributor Mars Distribution has confirmed their acquisition of 'Irrational Man'. Stephen Celerier, the charman of Mars Films, tweeted it will be released in 2015.
UN HOMME IRRATIONNEL est le titre du prochain film de Woody Allen avec Joaquin Phoenix & Emma Stone. Sortie 2015. pic.twitter.com/oVwFhD1eIQ

— Stephane Celerier (@stephanecel) February 4, 2015
We don't think the image is official, just one of many pap shots doing the rounds.
Mars Distribution has released the five Allen films in France, every one since Midnight In Paris and Whatever Works. They have a holding page on their website.
According to Box Office NL, Paradiso Entertainment has picked up the film for the Netherlands. It will be out 20th August 2015. Paradiso has also distributed all Allen films since 'Whatever Works' bar You Will Meet A Tall Dark Stranger.
IRRATIONAL MAN van Woody Allen gaat uit op 20 augustus 2015. @ParadisoFilmsNL http://t.co/O0k9eT8pWZ

— Boxoffice NL (@boxofficenl) February 22, 2015
There was also a tweet revealing the Korean distributor as Dream West Pictures. No release date was mentioned. It looks like the first Allen film distributed by Dream West.
우디 앨런 신작 [Irrational Man]. 존재론적 위기를 맞은 중년의 철학 교수(와킨 피닉스)가 자신의 학생(엠마 스톤)과 관계를 맺게 되며 인생의 새로운 의미를 찾게 된다. 드림웨스트픽쳐스 국내 수입. pic.twitter.com/FEifU1CKSk

— 보쿠리코 (@bokuriko) January 30, 2015
Blog De Cine confirms the previously announced Spanish Distributor as eOne. Cinedor has listed a December 2015 release for Spain, with no further details.
The Box Office NL listing has a cast list, in alphabetical order. It could be the official main cast list – or it might not. Although it certainly makes sense. Who they have listed are:
David Aaron Baker, Jamie Blackley, Meredith Hagner, Ethan Phillips, Joaquin Phoenix, Parker Posey, Ben Rosenfield, Emma Stone
IMDB has listed also listed character name for Phoenix's character – Abe. Baker is playing Biff, Hagner is Sandy, Phillips is just credited as Dad and Rosenfield is Danny.
Finally, there is an official Twitter account – @IrrationalMovie
Five months to go, and still a lot more to be announced. So far, it seems like the people behind Allen's amazing recent string of box office successes.
'Irrational Man' hits US cinemas on limited release 24th July 2015