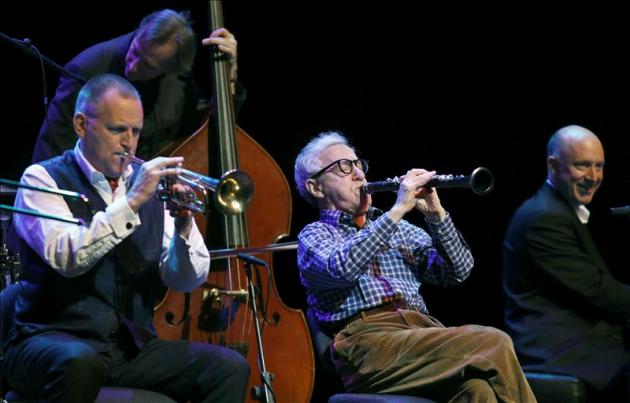 Woody Allen and his regular band – the Eddy Davis New Orleans Jazz Band – have just finished a three date tour of Europe. A rare European concert performance, we are wrapping up photos, videos and reviews of the tour.
The first concert was at the Monte-Carlo Opera House.
"@conalfowkes: Great first concert! Magnificent Monte-Carlo Opera House Standing ovation! #woodyallen pic.twitter.com/EnPXEd4Mw7" @MonteCarloSBM

— WoodyAllen JazzBand (@jerryz) December 29, 2014
What a jazzy evening! Woody Allen and his New Orleans Jazz Band charmed the audience at #OpéraGarnierMC last night! pic.twitter.com/DvqkxyyiZ8

— Monte-Carlo SBM (@MonteCarloSBM) December 30, 2014
#woodyallen with a #jazzband at #monaco. © Valery Hache #AFP #AFPPhoto #cinema #entertainment #celebrities pic.twitter.com/8l2J7HcZBx

— Valery HACHE (@ValeryHache) December 30, 2014
The concert then moved to Badojaz, where Allen was snapped getting off a plane, and then later spoke at a press conferece.
@VadeAviones os dejo a Woody Allen bajando de su Gulfstream esta tarde en el aeropuerto de Badajoz. Mañana va a LEBL pic.twitter.com/AN3dOnm9Wy

— Daniel Le Grand (@Dani_wandy) December 30, 2014
Woody Allen con el Presidente #Monago y @fragoso_fran antes del concierto que ofrecerá en #Badajoz #Extremadura pic.twitter.com/asuZaql1Q9

— PP Extremadura (@ppextremadura) December 30, 2014
Next – the concert at Palacio de Congresos in Badojaz. El Pias reviewed the show.
"@Juan_A_Morales: En el Magnífico Concierto de Woody Allen en Badajoz. #Monago pic.twitter.com/bOZZYKqBPy" #GratisTotal ? Pregunto

— Ferri (@ferri61) December 30, 2014
Woody Allen celebra con música el fin de año http://t.co/10GcDP0Wox pic.twitter.com/gr5OookaVh

— Milenio ¡Hey! (@Mileniohey) December 30, 2014
No sé cómo será el cielo, pero debe parecerse a esto… #WoodyAllen #Badajoz pic.twitter.com/aClF5jBRQP

— Violeta Alonso (@VioletaAlonsoCM) December 30, 2014
And a video! With Allen speaking at the press conference and some of the show. A big photo gallery here.
Finally Barcelona for New Year's Eve. The band performed as part of the Suite Festival at Al Gran Teatre del Liceu. Yahoo has a review and an excellent photo gallery here.
"@suitefestival: estreno de @suitefestival Woody Allen Jazz Band en @Liceu_cat foto @JoseIrunFoto pic.twitter.com/coCeZnAnH5" @conalfowkes

— WoodyAllen JazzBand (@jerryz) December 31, 2014
Impressionant arrancada de @suitefestival al @Liceu_cat amb #WoodyAllen fotos de @JoseIrunFoto pic.twitter.com/2e2qzh5ecq

— Suite Festival (@suitefestival) December 31, 2014
Not announced yet, but if history is anything to go by, Allen and the band will return to the Carlyle Hotel in New York, every Monday night for their regular residency.
And hey – Happy New Year everyone!