Music Of Woody Allen Films – a new irregular feature about the musical compositions that have helped to make Allen's films sing.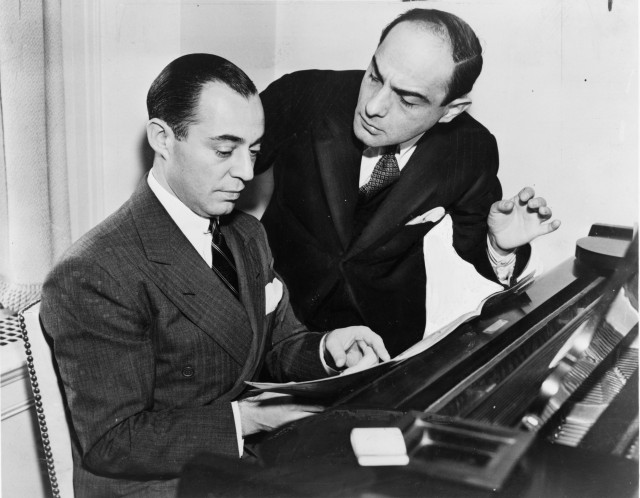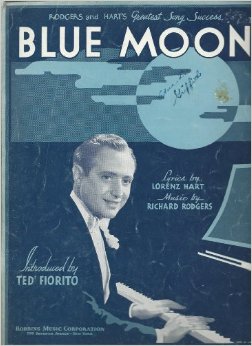 Blue Moon
Composed by Richard Rodgers (music) and Lorenz Hart (lyrics) in 1934
Used in Blue Jasmine
Blue Moon was written by the team of Richard Rodgers and Lorenz Hart, at the height of their powers. By the time they wrote Blue Moon, they had already produced over 20 stage musicals and were writing music for the new medium of Hollywood films.
Metro-Goldwyn-Mayer were the most glamorous of all the Hollywood studios in this era, and they owned the genre of film musicals. MGM contracted Rodgers and Hart to write songs for their films – the first being 'Hollywood Party' (1934). Rodgers wrote a beautiful melody, with Hart contributing the words, but not the ones we know today.
The first version had a lyric and title of Prayer, and was to be sung by Jean Harlow. The finished song never made the film, so they kept the music and wrote new words for the next MGM film – 'Manhattan Melodrama'. The song was auditioned twice for the film with two different lyrics – 'It's Just That Kind of A Play' and 'The Bad In Every Man'. The last one made the film, sung by Shirley Ross. But it made little impact.
Rodgers and Hart's publisher believed in the melody, but thought it needed a more commercial lyric. Hart gave it one more go – his fourth – and came up with what we now call Blue Moon. It became a massive hit, and one of the few Rodgers and Hart that broke through that wasn't part of a show. It was soon licensed to the radio show Hollywood Hotel and used as its theme song.
There have been charting versions of Blue Moon many times over the decades, and it has been used in many films – from The Marx Brothers 'At the Circus' to 'Grease' to the recent, Colin Firth starring 'A Single Man'.
Singer Connie Boswell was the first to record the song in 1965. The Marcels' doo wop version hit number 1 in 1961.
Blue Moon is the running theme in 'Blue Jasmine' – it's the song that is playing when Jasmine meets Hal, and her life changes. The song is swooingly romantic, but the lyrics suggests another meaning. The way Hal sweeps Jasmine off her feet, and takes her from a nobody to a life of glamour.
Of course, when he leaves, she returns back to that lonely place. We leave Jasmine at the end of the film with the song, she is almost singing the song to herself, waiting hopelessly for someone to save her. Blanchett told Empire magazine that the song informed her award winning performance.
That was a BIG inspiration for me. It was a big help, knowing that rhythmically and tonally that was going to be a part of the mix.
Jasmine's fate, and the idea of 'once in a blue moon', ties into one of the cores ideas of Allen's work – luck. The chances of meeting someone, of life working out, or even getting away with murder, is all down to dumb luck. 'Blue Jasmine' is all about that luck, and when it turns against you.
On the 'Blue Jasmine' soundtrack, Conal Fowkes performs the track. Fowkes plays piano in Allen's jazz band, and has appeared in many of Allen's recent soundtracks.
Rodgers and Hart would see continued success for a few more years, writing some of their best loved songs like My Funny Valentine and Have You Met Miss Jones?, until Hart's tragic death in 1943. Rodgers would continue to arguably greater success with Oscar Hammerstein II.
For Allen, it is yet another jazz standard from the 20s and 30s, that era of music that he has devoted his whole life. But in many ways, Blue Moon transcends that era. It's a beautiful song that still resonates to this day.
Here's one of our favourite versions – Billie Holiday from 1952.
Find all our the stories in our Music Of Woody Allen Films series. What song should we look at next?