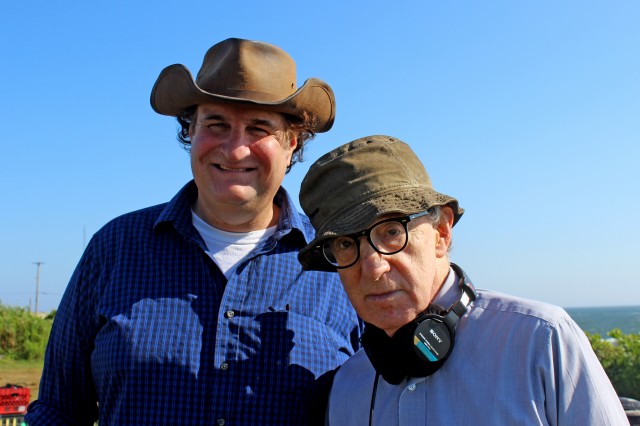 In keeping with his style, details around the 2015 film written and directed by Woody Allen have been kept secret. One of the few people who have been doing any sort of press around the film is Steve Feinberg, the executive director of the Rhode Island Film and TV Office. He was instrumental in bringing the production to Rhode Island. He has now written in Cox Hub about his summer with Allen.
The article features a photo of Feinberg and Allen taken at Beavertail Park, one of the known locations in the film.
Feinberg on landing the deal.
Three months earlier, in the spring, when the celestial winds of movie magic were scarcely swirling around the New England area, a top-secret "all hands-on deck" alarm from the Rhode Island Film Office was hailed to capture the circling, creative cosmic energy in order to hopefully haul it "home". With enthusiastic tenacity, and support of dedicated individuals in both the public and private sectors, the RI Film Office quickly established a trustworthy relationship with the filmmaker and his company. No longer adrift, the multi-talented Woody Allen Summer Production 2014 re-calculated its position and silently set sail in a northerly direction and anchored in the safe harbor of our film-friendly Ocean State.
Feinberg also notes that the location of any Allen film means international exposure. And that we will see lots of Rhode Island in the finished film.
The undisclosed titled movie, starring Joaquin Phoenix, Emma Stone and Parker Posey, made an instant media splash across the globe when the cast was announced to the public. This would be an unforgettable summer in Rhode Island as the director's highly professional production company, comprised of local crew and Hollywood veterans, navigated across the State. Launching from their newly discovered home-base in Warwick, the company maximized their cinematic potential by utilizing inspiring locations within Newport, the creative capital of Providence and the cozy suburbs of Cranston, along with a few more cities and towns.
Read the whole thing at Cox Hub.
With production wrapped, we assume that Allen is in post production on the 2015 film. Expect it to hit cinemas next July!