If Woody Allen signing on to create a series for Amazon wasn't surprising enough, this week Allen announced the cast. Everyone seemed happy to see Elaine May return to working with Allen, but it was the inclusion of pop star Miley Cyrus that has turned heads. Now the mega star has instagram-med about working with Allen's 2016 Amazon Series.
Cyrus has some pretty incredible social media credentials, with 35.7 million people following her on Instagram alone.
Her first post confirmed her appearance, and is stoked to be working with him. She also reveals she has an picture of Allen next to her bed and she calls Elaine May a badass (she is).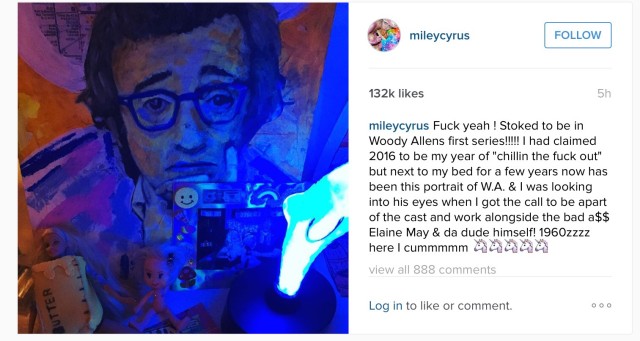 Second, she put her face on a recent photo with Allen, saying her next few months will be hanging with Allen. Indeed production begins in March, and there's probably plenty of prepping in February. Production will head into April.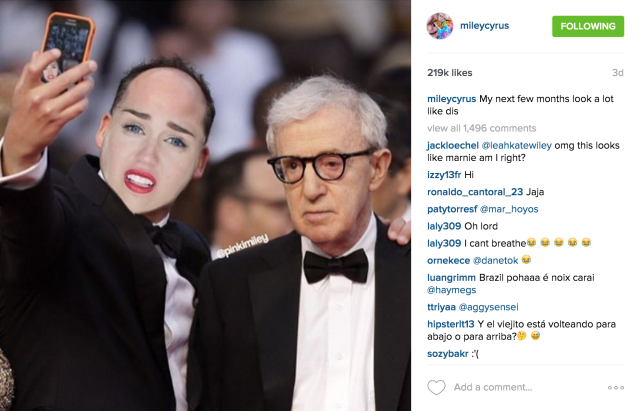 Getting such a high profile star is a coup for both Allen and Amazon. The casting has garnered a lot of press, and a fair amount of haters. But is there's one headline we liked – Hannah Montana And Her Sisters. Cyrus for her part is an Allen fan, and has plenty of acting experience.
Production starts of the Amazon Series in March in New York. We await to hear more about it, we only know so far that it is set in the 1960s.