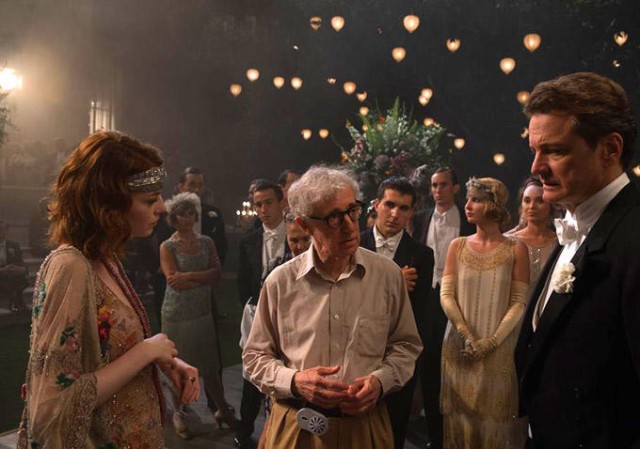 A couple of amazing exclusives for Magic In The Moonlight, the new film written and directed by Woody Allen. Danish website politiken.dk is the first agency to release clips from the film. Also, the Wall Street Journal has scooped the first extended feature which includes many insights into the story as well as new quotes from stars Colin Firth and Emma Stone.
Here are the clips
1. She Won't Fool Me – Simon McBurney and Colin Firth
2. Do You Like To Travel? – Hamish Linklater and Emma Stone
3. A Non-Believer – Colin Firth, Emma Stone, Marcia Gay Harden, Hamish Linklater, Jacki Weaver
4. Seance – Emma Stone and cast
5. But I'm Not Wrong – Emma Stone and Colin Firth
6. She's Quite Likeable – Eileen Atkins and Colin Firth
The WSJ article is great. The big theme of the story is belief and faith. Firth has not spoken much about the film, so he brings a new perspective.
A lot of that lay under the surface for me. I didn't catch it all on first read. It basically has the aspect of something that's incredibly light, a diversion. And I think we all found in the twists and turns that there was an awful lot more. Before we knew it, people on the set were discussing their own beliefs, questions about what faith means to people.
Stone talked about Allen's own beliefs.
Woody's had a connection to magic and the supernatural since he was a kid, driven by his belief that we're going to end up in a black hole of nothingness and that the universe is quickly moving apart and there's no hope for humankind. The hope for this kind of magic [being real] is a thing we've seen in his movies for decades.
Jacki Weaver weighs in
I think with some of us there's a need to think that there's something inexplicable that's beyond our comprehension. Magical, spiritual, call it what you will. The movie doesn't have a point of view. It doesn't say this is rubbish. And it doesn't say this is real. It just says that life is a mystery, and there's magic sometimes when you least expect it.
There's lots of other nice revelations. We have another recurring song – Cole Porter's You Do Something To Me. Firth introduced Stone to Allen's writings, starting with the classic The Kugelmass Episode.
'Magic In The Moonlight' is out on limited release on 25th July and rolling out further in the weeks to follow.
What do you think of the clips? We're so excited now…