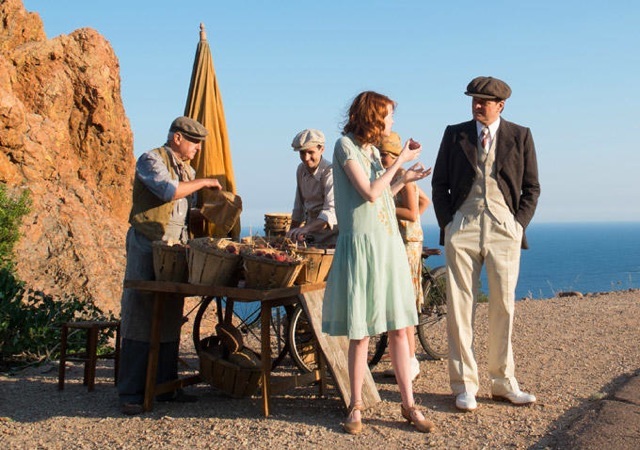 Magic In the Moonlight, the new film written and directed by Woody Allen, is out tomorrow! The cast has done a bunch of interviews from press junkets last week. We've collected what we've found. (UPDATED with a few more articles now).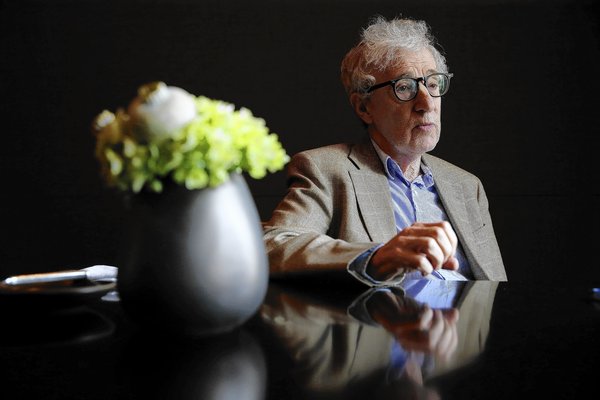 The Chicago Sun Times' Michael Phillips (an excellent writer) profiled Allen in a lengthy piece. It's essential reading with Allen talking about his early club years, hanging out with Hugh Hefner and early years with Louise Lasser. He also talked about his personal history with magic.
Magic, fakery and the illusionist's game have provided Allen with a lifelong theme, on stage ("The Floating Light Bulb") and many times on screen. When he was kid growing up in Brooklyn, Allen was "not an illusionist, I was a sleight-of-hand person. Illusions would've been too expensive for me to buy. I could buy some tricks, you know, that were $5, $10 — trick milk pitchers, linking rings, things like that. I couldn't afford a guillotine or sawing a woman in half. Those were $150. So I got interested in sleight-of-hand. I used to buy books a lot, and I worked with cards, silk handkerchiefs, billiard balls, cigarettes, coins, I set up a three-way mirror and practiced diligently, all the time, isolated. Some of that stuff never leaves you."
Phillips talked to two cast members we've yet to hear from at all – Simon McBurney and Eileen Atkins.
"Very, very, very private" is how McBurney describes Allen. "But very, very smart. It was raining one day on the set and I said, 'So, Woody, how's it going? And he said, 'I have no idea! I have no idea! I'm just trying to stay one step ahead of everybody. I'm just the guy who goes fishing, and when he goes home he finds out what he's caught.' He's constantly revealing another aspect of himself in all of his movies. That's what you do as an artist. Your own self is your reservoir."

Eileen Atkins, who plays the Firth character's aunt, says she found Allen "absolutely enchanting, which I didn't expect to. He's the only person whose work I've consistently enjoyed throughout his life. We all know some of it's better than others, but you still say: That was bloody good."
Read the whole thing at the Chicago Sun Times.
Variety asked Weaver and Firth about their favourite Woody Allen film.
Weaver:
Well, I've got about 12. I'll always have a soft spot for 'Zelig.' And I love all the usual things. I love 'A Midsummer Night's Sex Comedy,' and more recently I love 'Match Point.' I'm crazy about 'Broadway Danny Rose' and 'The Purple Rose of Cairo' and 'Crimes and Misdemeanors' and 'Hannah and Her Sisters.'
Firth:
I think people can play this, it's like a parlor game all night, really. At the moment, looking back over the years, 'Radio Days' is the one that comes to mind. I like 'Crimes and Misdemeanors,' I like 'Take the Money and Run.' I like, in his own words, the earlier, funnier ones.
Firth talked about whether he imitated Allen in his performance with Big News Network.
I was trying to imitate Woody. It was just clearly and spectacularly unsuccessful. It wouldn't have been a fit.

It just didn't call for that. It was a wonderfully specific character that belonged absolutely in the culture in the way that it was aimed. I don't know how Woody did it, but I found myself, for interest's sake, when I was preparing just reading P.G. Wodehouse and Evelyn Waugh and [George Bernard] Shaw, just to refresh myself as to how people sounded… Because we don't sound very much like that anymore. I might a little bit because I am a relic, but it has disappeared to a very large extent and it really struck me how remarkably [Allen] had hit it. So, I play it as I see it or hear it and when dialogue is good and relationships are good, so much of the work is done for you. It just comes to life. It's telling you how to do it and if I'd misjudged that, then I had Woody to make it clearer, what was intended. Good writing just takes you a long way toward it.
Stone and Firth both spoke to the Daily Beast.
Emma, did you grow up with Colin's movies? I took my college girlfriend to 'Love Actually' twice in theaters.

Emma Stone: I've seen 'Love Actually' about 18 times. I've seen Bridget Jones too many times now. You were so upset with me! I live-texted Colin the plot of 'Bridget Jones: The Edge of Reason' a few months back while I was watching it. You were very upset with me, if I remember correctly. I talked him through what he was doing.
Also:
Do you have favorite Woody Allen films?

Stone: I'm a big fan of Love and Death. It's so funny. I love satire.

Firth: I'm a big fan of 'Love and Death', too. Sometimes, it's the time or whatever day that was, and the fact that you were in the mood for that movie. I love Manhattan, and I know it's not one of Woody's favorites.
Stone talks about Allen with ContactMusic.
It was hugely intimidating. I think after a while you get your sea legs a little bit, but there's no rehearsal process, there's no real getting-to-know Woody at all. You are just terrified. It's all cold.
Firth and Stone in Indiewire
How does one get cast in a Woody Allen film?

Colin Firth (CF): In a way it was straightforward by standards of the way he operates. I was sent the script and was offered it with a note. Scripts come on a computer now — this one did not. It had to be transported, handcuffed to somebody.

Was the note handwritten?

CF: No. There was a note at the end, which was nice. It was just a little thing about how you would be great in this role. I read it while somebody waited. And you know, I don't have to think too hard about working with Woody Allen. I got a fair idea about this work, really and I wanted to do it. But dates conflicted and they needed an answer quickly. So it had to wait a month or so and then they came back again saying dates had been moved. There wasn't much conflict.

Same for you, Emma?

Emma Stone (ES): I had a quick meeting with them. I had a four minute meeting and then they asked me to come into his office to read the script. About a month later, I went and there was a note attached to it, not handwritten, saying basically the same thing and that was it.

CF: Did you have to give the script back?

ES: Oh yeah, right away.
If you see anymore please let us know. We will round up various video interviews at the end of the week for our Video Of the Week series.
'Magic In the Moonlight' is, like, out tomorrow. Wow. Go see it.